What is Halloween without CANDY CORN!!! This cake is actually decorated with Candy corn and Milk Duds-yum! Its a delicious Chocolate cake frosted and filled with light fluffy pastry pride.  But I think the best part of this cake is the surprise when you cut into it! Black chocolate cake with orange polka dots, perfect for Halloween!
This was my first time making a "polka dot" cake and I was so nervous cutting into it, hoping it would look the way I imagined it would.  I was hoping for a little more polka dots, but other then that I was happy about the way it looked and the color.  This cake is a little time consuming, because you need to make the cake balls first, then cook them inside the cake.  This cake is just so cute!!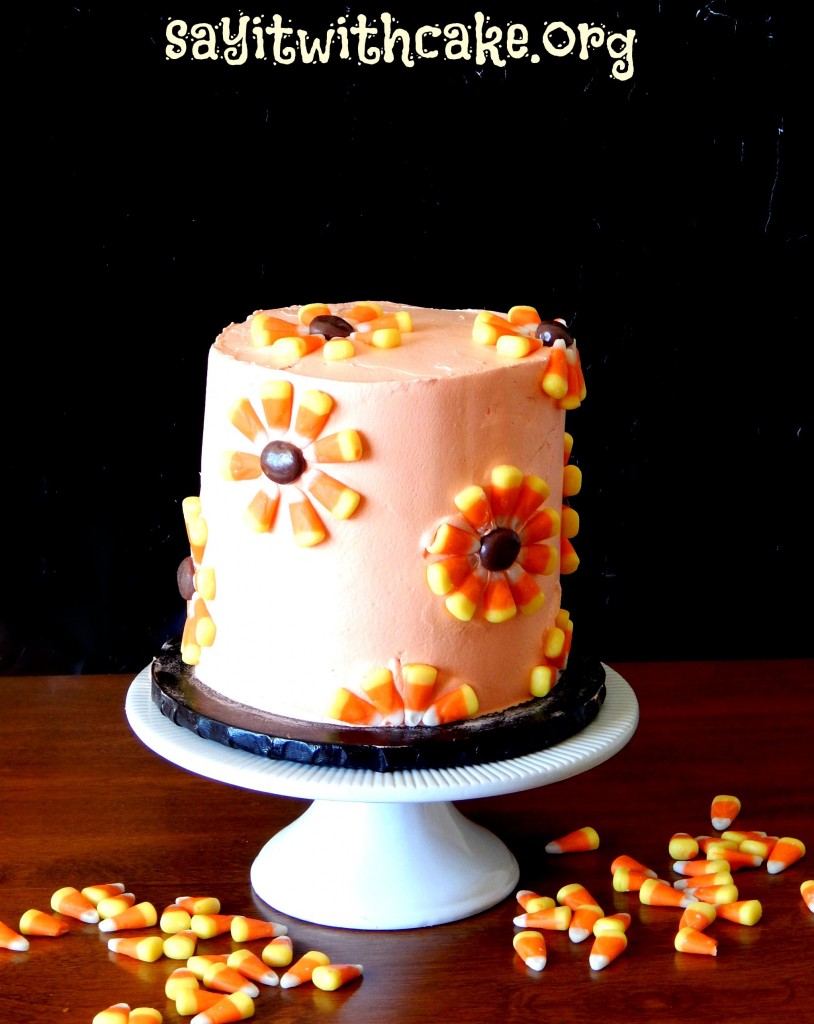 Notes on this Recipe: This recipe makes enough batter to fill a 10″ x 3″ deep pan plus an 8″ x 3″ deep pan, or two 8″ x 3″ pans plus a 6″ x 3″ pan. The recipe may be halved. Note: it is important not to overbake the cake in order to produce the best results. Don't open the oven door until the cakes are nearing the end of baking, or else the centers may collapse. Your cakes are done with a toothpick inserted in the center comes out with a bit of crumb clinging to it, and the cakes are just starting to pull away from the sides of the pans. Two other things to note: first, using the DH Dark Choc Fudge cake mix will result in a deep, dark chocolatey cake without having to use cocoa powder. I have tried this same recipe using other chocolate mixes but the result was not quite as chocolatey. Secondly, although the batter will taste and smell strongly of coffee, the cake will not. The coffee does a wonderful job of boosting the chocolate flavor.


WASC stands for White Almond Sour Cream. A delicious was to make a cake using a cake mix as a base.  


This recipe is adapted from Cakepro on Cakecentral
Candy Corn and Polka Dot Cake
Ingredients
2 boxes Duncan Hines Dark Chocolate Fudge cake mix
2 2/3 c. water
1/2 c. vegetable oil
6 large or extra large eggs
16 oz. sour cream
2 cups all-purpose flour
2 cups granulated sugar
1 1/2 tsp salt
1 Tbsp vanilla extract
1 Tbsp instant coffee
Instructions
Preheat oven to 325 degrees F.
Prepare cake pans by spraying generously with original Pam.
Add cake mix, flour, sugar, and salt to mixing bowl and stir with a whisk to mix and de-clump the cake mix.
Dissolve coffee granules in room temperature water.
You may also use 2 2/3 cups cooled strong black coffee in place of the water and instant coffee if you prefer.
Add remaining ingredients to mixing bowl and mix on low speed for one minute. Stop, scrape bowl, and mix for 2 minutes on medium speed.
Pour into prepared pans and bake on middle rack of oven.
Your cakes are done with a toothpick inserted in the center comes out with a bit of crumb clinging to it, and the cakes are just starting to pull away from the sides of the pans.
Let cool for half an hour in the pan, then invert onto cooling racks to cool to room temp.
Wrap cakes in plastic wrap after cooling to prevent cakes from drying out. These cakes freeze really well. Wrap cakes well with plastic wrap and then with foil, and place in freezer. For long-term storage (more than 2 weeks), place wrapped cakes in a paper grocery sack. The paper sack will keep freezer odors out of your cakes. When you are ready to thaw them, remove cakes from paper sack and leave on counter overnight in plastic/foil.
http://sayitwithcake.org/candy-corn-and-polka-dot-cake/
First, make cake balls.  I used a cake pop maker, it was really easy and they were made in about 15 minutes.  Next, you pour a little bit of the black chocolate cake batter in the bottom of the cake pans.  I used three six inch pans.  Next, place the cake balls in the pan.  If I had to do this again, I would put more cake balls in the pan then I did.  They rise to the top while cooking.  Then cover the cake balls with the black batter.  Cook them until the toothpick comes out clean.  Let them cool completely on a cooling rack.  Level the cakes and stack them.  I used whipped Pastry Pride as my filling.  Let the cake sit for 3 hours for the filling to sit.  This is important because you need to give the filling time for gravity to work.  The filling will start to bulge out a little over a few hours.  If you frost your cake before letting it sit for a few hours, you will get bulges out of the side of your frosted cake where the filling is.  I learned this the hard way! So now I always let my filled cake set for a few hours! After this, then you can frost your cake.  I used whipped Pastry Pride to frost my cake.  Next I put Milk Duds all over the cake as centers of the flowers.  I arranged thecandy corn to look like petals.  All done! Now you get to cut into the cake and see the awesome polka dots!!
ENJOY!
Shamene