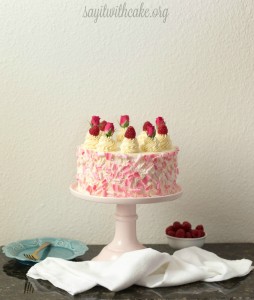 Chocolate Raspberry mud Cake – a rich, fudgy chocolate cake layered with delicious fresh raspberry buttercream, topped with Swiss meringue buttercream, chocolate curls, and fresh red raspberries.
For the past couple of years or so, I have been making homemade cakes for my mom's birthday.  My mom loves chocolate. In fact, when I was younger I remember people calling her a "chocoholic".  So when I asked what kind of cake she would like this year, of course she said chocolate! I had fun coming up with this chocolate creation for my awesome Mother this year!  You can see some of the previous chocolate cakes I have made for her birthdays here and here.
The fun part of this cake is that from the outside you can't even tell there is a chocolate cake inside.  This is achieved with a raspberry buttercream crumb coat, and  top layer of white Swiss meringue buttercream.  If you do it this way, you won't even see parts of chocolate cake showing through the buttercream.
I had a bit of trouble with the pink and white chocolate curls.  I used candy melts, and the white chocolate curls kind of squished down to look more like shavings then curls.  Next time I will use gloves so the heat from my hands don't melt the chocolate, and also use a better quality white chocolate.
I have to say, this fresh raspberry buttercream was the best frosting I have ever tried.  And the color is absolutely beautiful, just how I imagined it to be.  I didn't have to use any food coloring, it is colored purely from the fresh raspberries!
 Photography by Wendy Cox Photography
Recipe
Chocolate Mud Cake
2 cups All Purpose Flour
1/2 cup Cocoa Powder
2 tsp Baking Powder
1/2 tsp Baking Soda
1/2 tsp Salt
3/4 cup Water
3 sticks Soft Unsalted Butter
1/2 cup Milk
4 Eggs
2 3/4 cup Sugar
12 oz. Dark Chocolate
2 tbsp. Instant Coffee Powder
2 tbsp. Oil
Directions
Preheat oven to 350 *.  Line the base of an 8 inch round pan with parchment paper.  You can also chose to spray and flour the pan.  For this cake, I used three 8 inch cake pans  so I wouldn't have to tort.  Make sure there is equal amount of batter in each pan.
Take water in a sauce pan and bring it to a boil.
Add in coffee, butter, dark chocolate and heat it gently till it is melted.
Add in sugar and whisk well till it is completely melted.
Pour this in a bowl and set aside to cool down a bit.
Sift flour, cocoa, baking soda, baking powder and salt.
Add in milk to the chocolate mix, add in one egg at a time and whisk it well.
Add in the sifted flour, and oil, mix in and mix well.
Pour this in the prepared pan and pop it in oven for 30 min. or until the toothpick comes out clean.
Remove it from oven and let it cool completely.
Fresh Raspberry Buttercream
24 ounces fresh raspberries
2 sticks unsalted butter
1 teaspoon lemon juice
big pinch of kosher salt
3½ to 4½ cups powdered sugar
Directions
In a medium to large saucepan, cook down the raspberries until they've broken down and released their juices. They will be floating in their own liquid – super saucy. If you use frozen, this will take a little longer. Strain cooked down raspberries in a fine meshed sieve into a bowl, pressing down on them to get every bit of liquid out. You should have about 1 cup raspberry juice. Place this back in a clean saucepan, and cook down until reduced to ½ cup. It should be thick – like chocolate syrup, and will be dark blood red. Set aside until completely cool (I put it in the fridge).
In a bowl, beat the two sticks of butter until creamy. Add in 2 cups of powdered sugar, the reduced raspberry juice, the lemon juice and huge pinch of kosher salt. Beat until creamy and uniform in color. Continue adding powdered sugar until you get a nice, thick, but still creamy consistency. I used a little less than 3½ cups. If you end up adding too much, drizzle in a couple of tablespoons of milk or cream until you reach the desired consistency. Set aside covered, at room temperature, until ready to assemble the cake.
S
wiss Meringue Buttercream
200g (1 cup) caster (superfine) sugar
4 large egg whites
250g (1 cup + 1 tbsp) softened unsalted butter
2 tsp vanilla extract
pinch of salt
 Directions
To make the Swiss meringue buttercream, put the egg whites and sugar in an extremely clean heatproof bowl (use the bowl of your stand mixer if you have one.
Place over a pan of simmering (not boiling) water (do not let the base of the bowl touch the water) and whisk with a hand whisk (not electric) until the sugar has dissolved completely and the mixture is warm to the touch, if you rub some of the mixture between your fingers it should be smooth and you shouldn't be able to feel any graininess, this will take about five minutes. If you want to get technical about it the mix should reach 60°C/140°F on a thermometer.
Remove the bowl from the heat and attach it to your stand mixer with the whisk attachment or use an electric hand whisk, whisk the egg whites until it forms a thick, glossy, bright white meringue and is completely cool, the bottom of the bowl should feel cool to the touch, this will take about 10 minutes.
Once the meringue is cold, switch the mixer to a low speed and begin to add the butter, a tablespoon at a time, make sure that each addition is fully incorporated before adding the next; the meringue will deflate a little and may begin to look curdled, don't panic! This is normal, just keep adding the butter gradually and whipping away and it will come back together. If, once all the butter has been added, your mixture is runny, the butter may have been too soft or the meringue still warm, just put the bowl in the fridge for 15 minutes or so then carry on whipping.  You can also use the whisk attachment if it is still runny.  If, even after a decent amount of whipping, it still looks curdled, place about 4 tablespoons worth of the mixture in a small bowl and microwave for 10-15 seconds, it should become runny, pour this back into the bowl of buttercream, down the side of the bowl while whisking, continue to whisk for a few minutes and it should come back together.
Once the buttercream is completely smooth and silky and all the butter has been incorporated, whisk in the vanilla extract and salt.
Pink and white chocolate curls
Melt one bag of white candy melts, and one bag of pink candy melts.
Scoop the melted chocolate on wax paper and freeze till hardened.
after hard, use the vegetable peeler to make curls.
For the Assembly:
Place a bottom layer of cake on a cake board or serving dish. Spread with about 1 cup of raspberry buttercream. Top the with the next layer of cake and repeat until all layers are stacked.
Crumb coat and frost the cake with the Swiss meringue buttercream , reserving a medium portion of the frosting for decoration.  Using a large star piping tip, pipe swirls around the top of the cake, and add fresh berries and roses to each swirl.
using a glove, press handfuls of chocolate curls to the sides of the cake.
Enjoy!