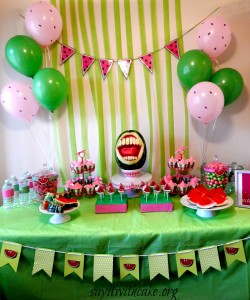 I just adore this watermelon theme  party that I threw for my son, for an end of the summer bash with his neighborhood friends.   From the invitation to the sweets, the decor to the favors, every last touch was watermelon themed in pink and green.   It all starts with the perfect invitation.  I designed this invitation on photo shop and printed it out on card stock.  My son went around to all his little friends passing them out, and that was one of the high lights for him! Four years old is such a fun age!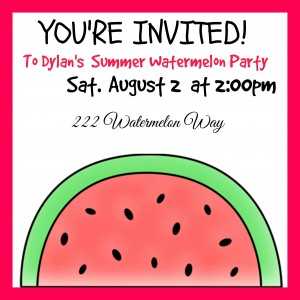 The Decorations included a cute sign that says "keep calm and eat watermelon" Perfect for the event.  The balloons were pink and green filled with helium.  I drew black "seeds" on the pink balloons with a black sharpie.  I cut out pink and green paper and glued them onto water bottles to fit the color scheme.  I made a Watermelon Piñata based on the piñata from Ohhappyday.com using card board and crepe paper! I filled it with delicious candy.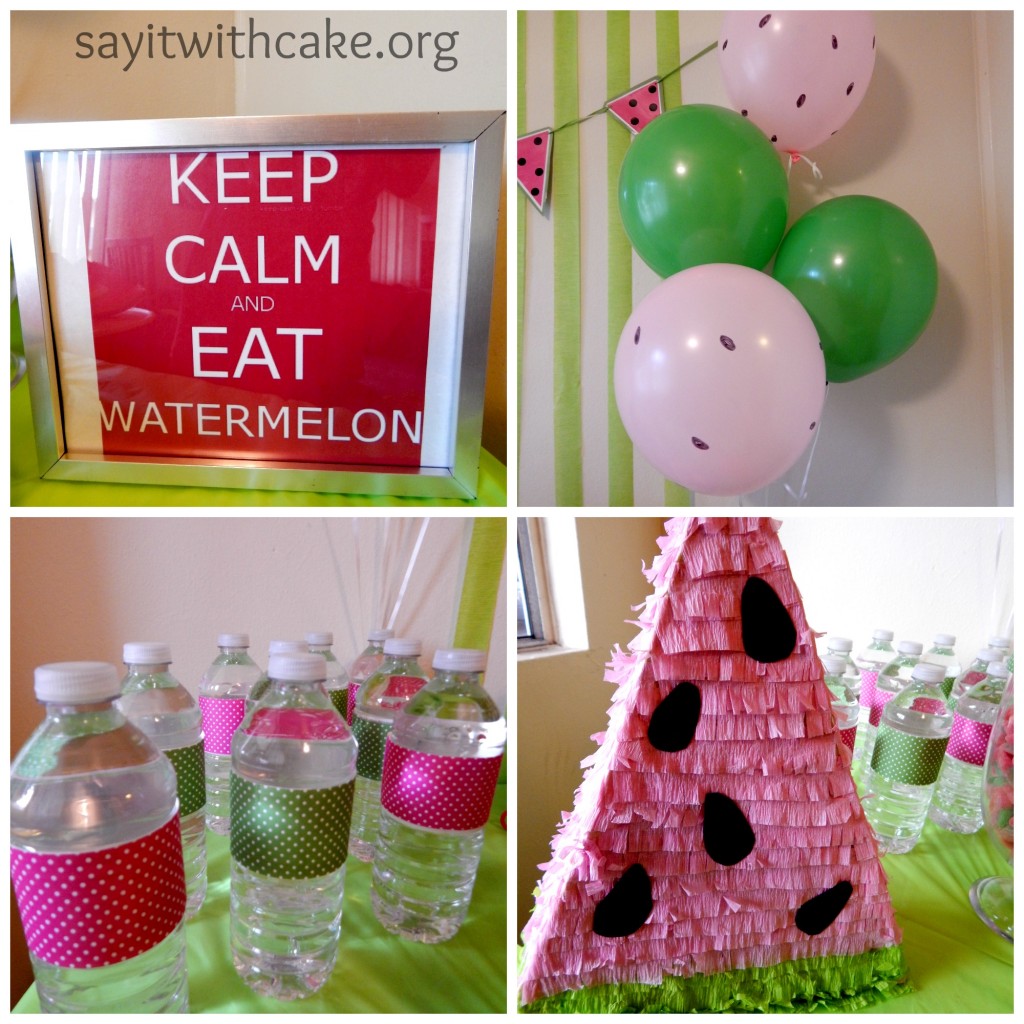 The Centerpiece is a watermelon carving I tried for the first time!  It was really fun to make!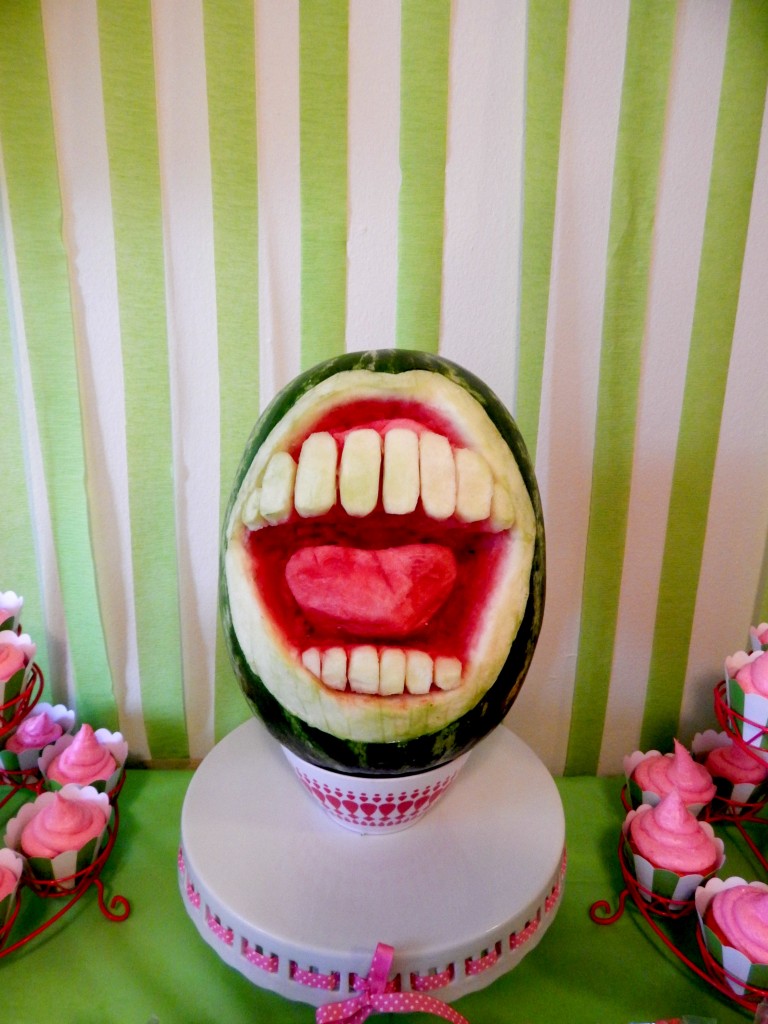 Some of the food included watermelon jello on the rind, watermelon on a stick, watermelon flavored cupcakes, and watermelon candy!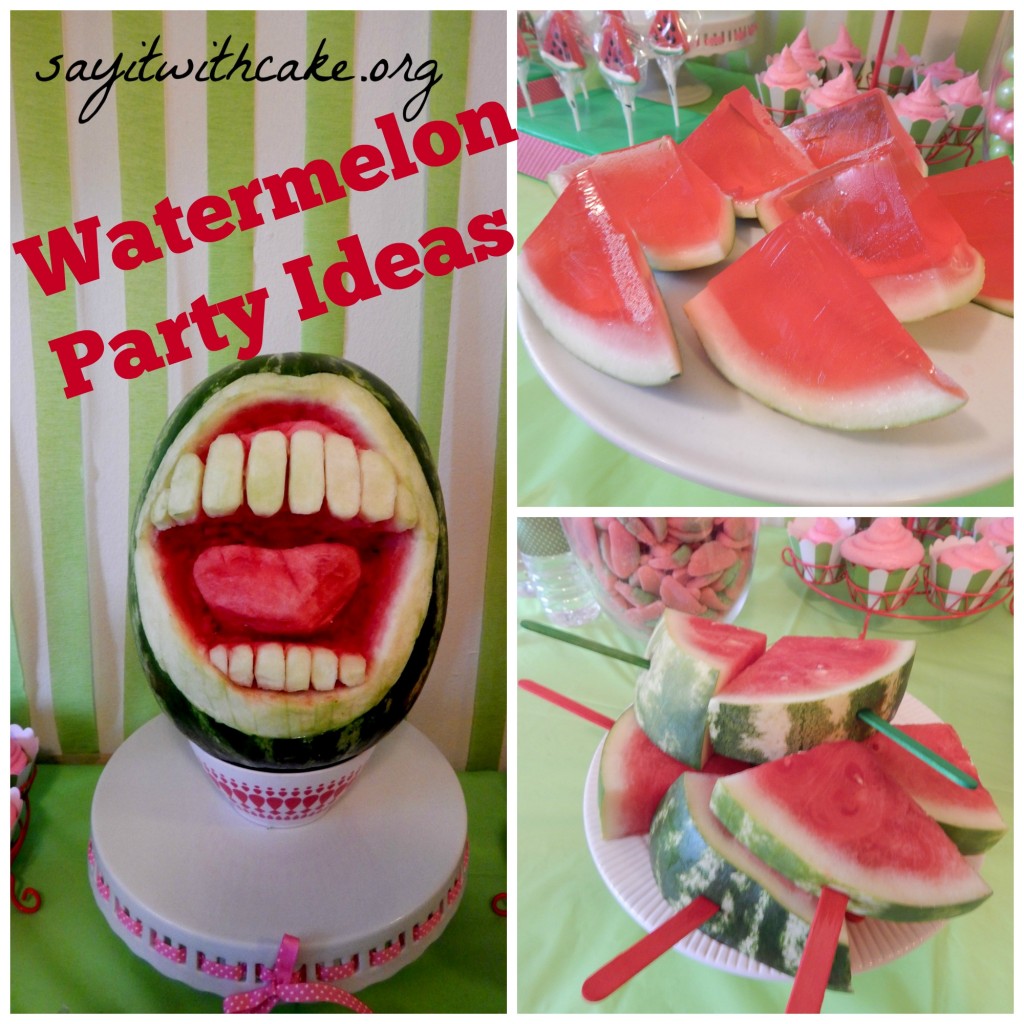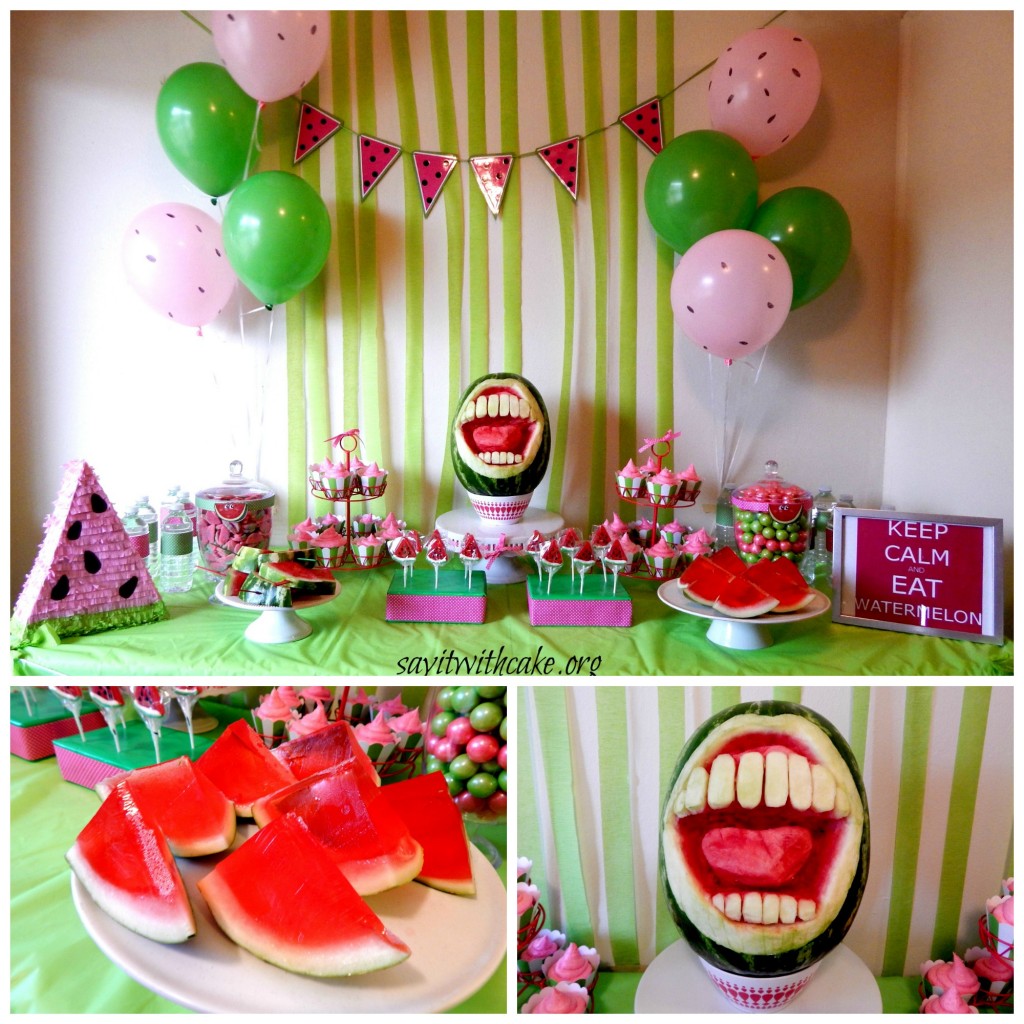 I made these watermelon flavored cupcakes with watermelon cupcakes filled with chocolate chip "seeds" and topped with yummy watermelon buttercream frosting that I piped on with a large circle tip.  The recipe is below.  I was going to put chocolate chip seeds on top, but they ended up not looking right.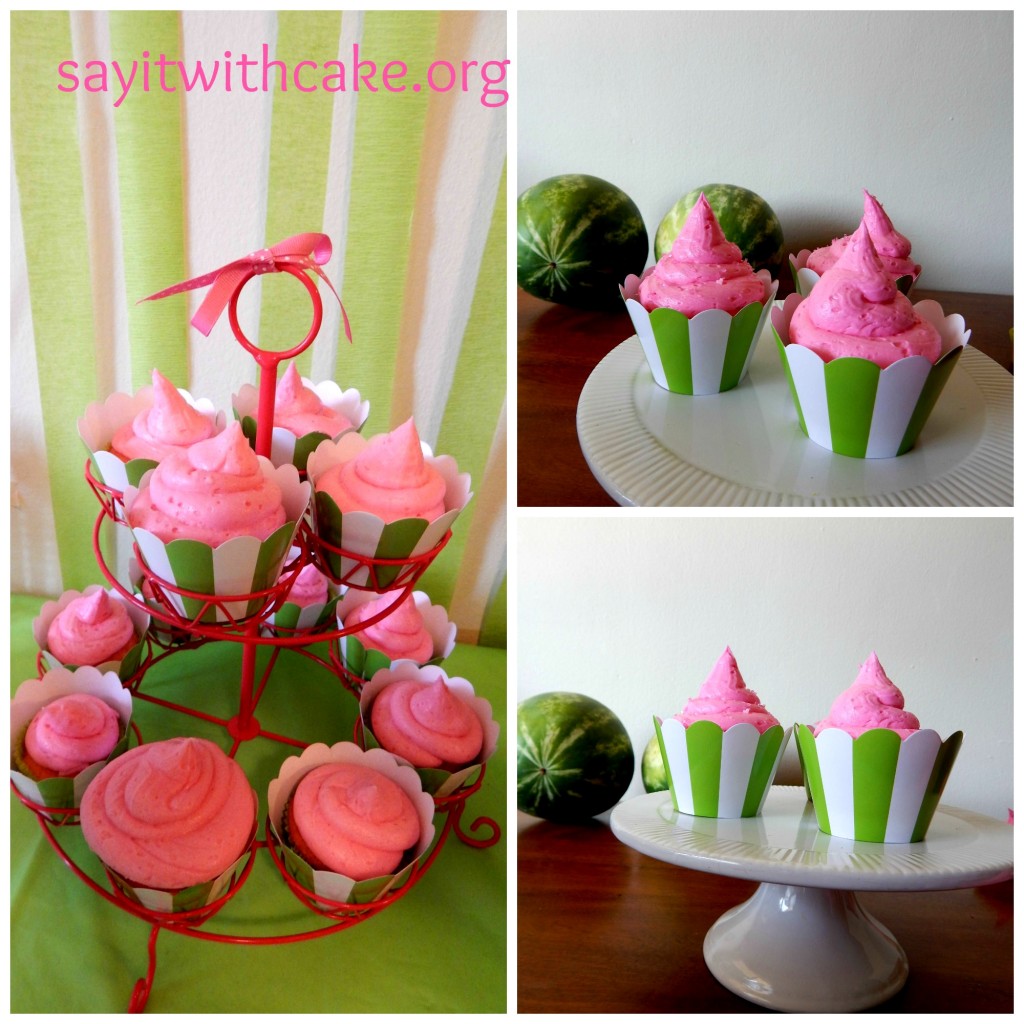 For the candy, I found the watermelon suckers and gumballs at Oriental trading company,  and the watermelon gummy candy at my local dollar store! What a great find that was!
I hope you like this party and that you can find some great ideas for your next summer watermelon party!
Ingredients
1/2 cup plus 2 tablespoons miniature semisweet chocolate chips
1 box Betty Crocker® SuperMoist® white cake mix
Water, vegetable oil and egg whites called for on cake mix box
1 package (0.13 oz) watermelon-flavored mix
1 container Betty Crocker® Whipped fluffy white frosting
red food colors
Instructions
1.Heat oven to 350°F . Place wrappers in 24 cupcake tins. In small bowl, toss 1/2 cup of the chocolate chips with 1 tablespoon of the cake mix. In large bowl, beat remaining cake mix, the water, oil, egg whites and drink mix with electric mixer on low speed 30 seconds, then on medium speed 2 minutes, scraping bowl occasionally. Stir in the 1/2 cup chocolate chips. Pour into cupcake wrappers.
2.Bake and cool as directed on box for 24 cupcakes.
3.In small bowl, stir 1 cup of the frosting with 10 to 12 drops of red food coloring. Spread onto cupcakes, or pipe using your favorite buttercream recipe.
Expert Tips
4.Use mini chips, and toss in a small amount of cake mix to make sure there are lots of chips and that they stay distributed in the cake.
http://sayitwithcake.org/end-of-summer-watermelon-party/
Ingredients
4 3 oz box red jello
2 1oz box of unflavored gelatin
1 large watermelon
Paper towels
2. 2 large bowls (one to mix the Jell-O, one for the watermelon you'll scoop out)
3. 2 small sheet trays or baking dishes (each needs to be big enough to fit a watermelon half)
4. Liquid measuring cup
5. Electric kettle (or you can boil water another way)
6. Cutting board
7. Kitchen spoon
8. Whisk
9. Chef's knife
Instructions
1. Using a large chef's knife, cut the watermelon into two equal halves, lengthwise.
2. Use your knife to slice all the way around the perimeter of the watermelon flesh, about an inch from the rind. Be careful not to pierce through the skin, as this will lead to your Jell-O leaking out. Then use a kitchen spoon to scrape out the rest and create a smooth bowl with roughly 1/2-inch red watermelon flesh left on the rind.
3. Line two small, rimmed baking sheets with paper towels in a way that creates a bed for your watermelon bowls. The idea is to create enough support to keep the watermelon bowls from rolling at all while they're in the fridge. Put one bowl in the center of each tray and set aside.
4. In a large mixing bowl, combine the Jell-O mix and the unflavored gelatin. Add 4 cups of boiling water and whisk until the gelatin is completely dissolved, about 2 minutes. Add the vodka all at once and whisk just to combine.
5. Pour the Jell-O mixture into the watermelon bowls, dividing evenly. Carefully place the Jell-O filled watermelon bowls in the fridge, and refrigerate until set, about 4 hours.
6. When Jell-O is set, cut each half into 1-inch slices, crosswise, then cut each slice into 2–3 wedges, and serve.
http://sayitwithcake.org/end-of-summer-watermelon-party/
Thanks,
Shamene
 Other Watermelon recipes you might like