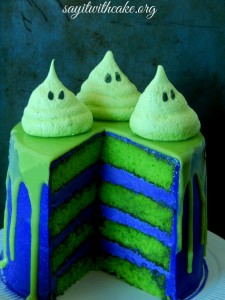 My favorite part of this Halloween Cake with Meringe Ghosts is of course the ghosts! I think they look so cute, and they were really easy to make! You just whip up some meringue with a few basic ingredients and bake them on a cookie sheet for a little over an hour.  I wanted to make them green so I could make it look like the cake got slimed 🙂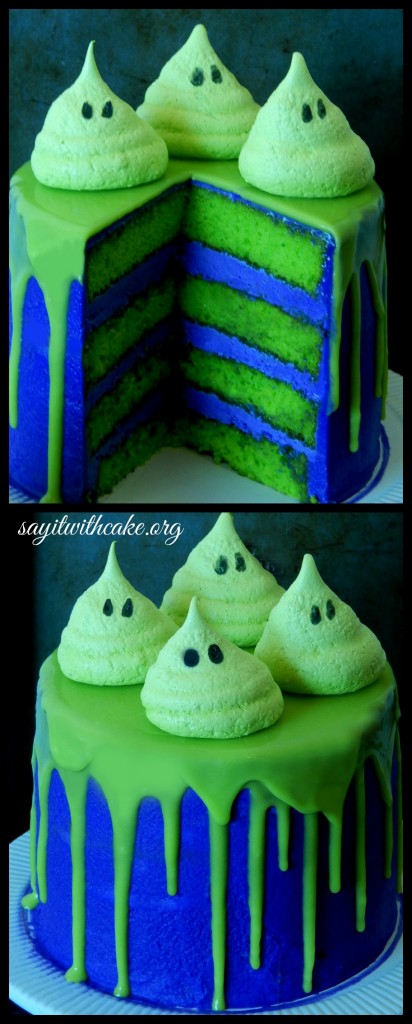 The cake is actually purple and neon green, but the purple looks more like blue in these pictures!  Either way, I think the colors look pretty good together and turn out very Halloween-ish.  The green slime is made from green chocolate ganache.  All I did was substitute neon green candy melts for the chocolate.  You can also add neon green food coloring to the cream before you mix the ganache, but when I did this my ganache turned out too dark.  I wanted it thin and light green to look just like slime.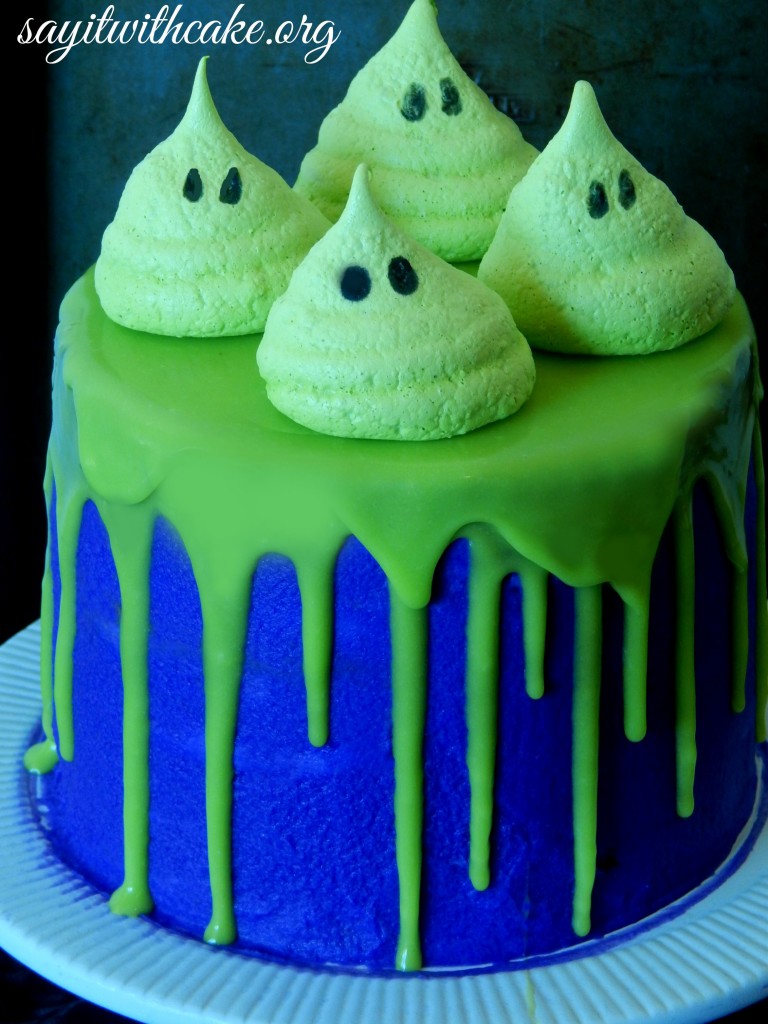 For best results in making this layer cake, DO NOT use store bought canned frosting.  The frosting does not crust and the layers will slide around, and the ganache will not drip nicely! I speak from experience! I tried to take the easy way out and use canned frosting, and the layers slid right off when I tried to cut the cake! So I ended up having to throw the cake away and start over! Not fun!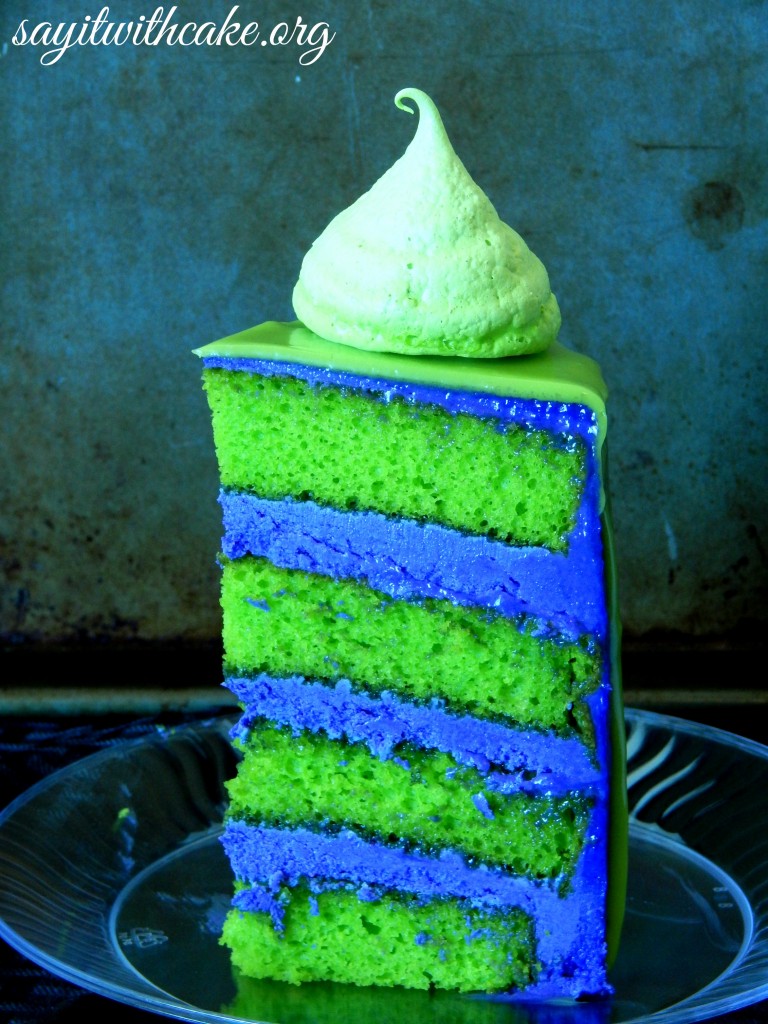 Meringue ghost recipe from foodie misadventures
Ingredients
3 large egg whites
1/2 teaspoon cream of tartar
3/4 cup sugar
1/2 teaspoon vanilla
Vibrant Green food color gel
Black gel icing or piping gel tinted with black gel color
Special Tools:•Small food safe paint brush
Instructions
Preheat oven to 200°. Line 2 baking sheets with cooking parchment.
In a deep bowl, with a mixer at high speed, whip egg whites and cream of tartar to a thick foam. Continuing to beat, add sugar, 1 tablespoon every 30 seconds, then whip until meringue holds very stiff peaks. Beat in vanilla.
If using cooking parchment, smear a little meringue on the underside of each corner to make it stick to baking sheets.
Spoon meringue into a pastry bag fitted with a 1/2-inch plain tip (or spoon into a gallon-size heavy plastic food bag, then cut off 1 corner to make a 1/2-inch-wide opening). Pipe meringue onto baking sheets into ghostly shapes, spacing about 1 ½ to 2 inches apart. To make eyes paint black gel onto each ghost.
Bake until meringues begin to turn pale gold and are firm to touch, 1 hour and 15 minutes to 1 and 30 mixtures hours, rotating pans halfway through baking. Turn off heat and leave meringues in closed oven for 1 hour. Slide a spatula under meringues to release
http://sayitwithcake.org/halloween-cake-with-meringue-ghosts/
Purple buttercream recipe HERE except do not add the mint extract, and add purple gel food coloring
White Almond Sour Cream Cake Recipe HERE
Green slime ganache recipe below, except change red candy melts for vibrant green candy melts
Ingredients
12 ounces of red candy melts
1/3 cup heavy whipping cream
red food coloring
Instructions
chop up red candy melts
color cream with red coloring, and heat cream in pan till starts to boil
pour cream over candy melts in a bowl
stir until smooth
http://sayitwithcake.org/halloween-cake-with-meringue-ghosts/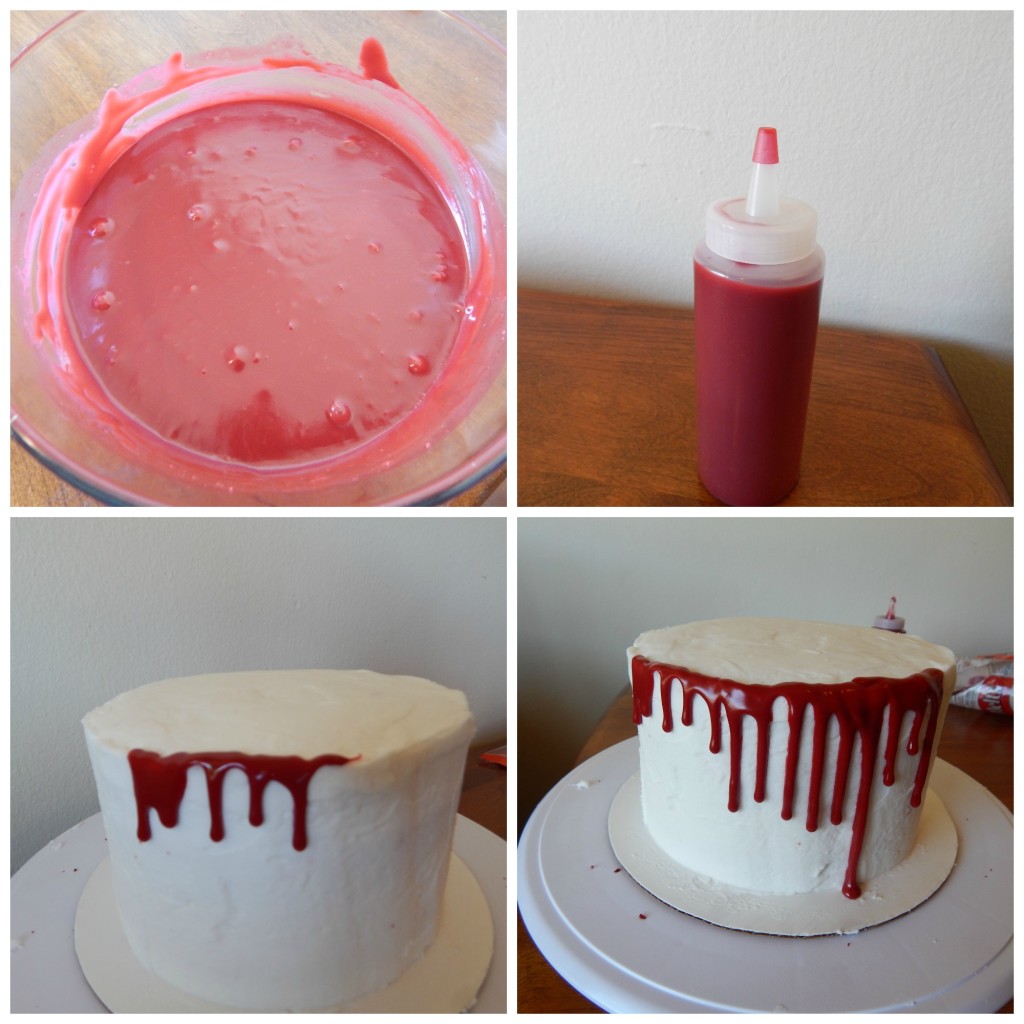 This tutorial is from my Bloody Halloween cake, but the effect is the same for this cake just use green candy melts instead of red.  For my slime cake, I made bigger thicker drips then this tutorial, but it is the same concept.  To make this green slime Halloween cake, first bake and cool your cake with two 8 inch cake pans.  Split each cake, and fill with buttercream frosting or whatever kind of filling you choose.  Let cake sit in refrigerator for 2 hours to let the frosting set…this will help make sure you don't have bulges outside of your cake when you frost it.  Next apply a crumb coat all over the cake.   Let it sit in refrigerator until frosting has set, about 20 minutes.  Next frost your cake with the buttercream frosting.  Now comes the fun part!   Make the green ganache and pour it into a squeeze bottle when it is still a little warm but not hot.  Carefully squeeze ganache along edge and allow it to drip down the cake.  The more you squeeze out, the longer your drips will be.  Then fill in the middle with remaining ganache and spread with the back of a large spoon.
Enjoy!
Shamene
Other Halloween cakes you might like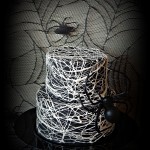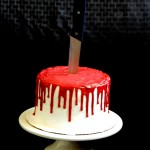 My cake was featured here!
inked up at http://www.thecountrycook.net/2014/10/weekend-potluck-138.html