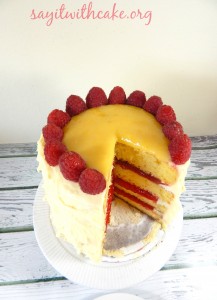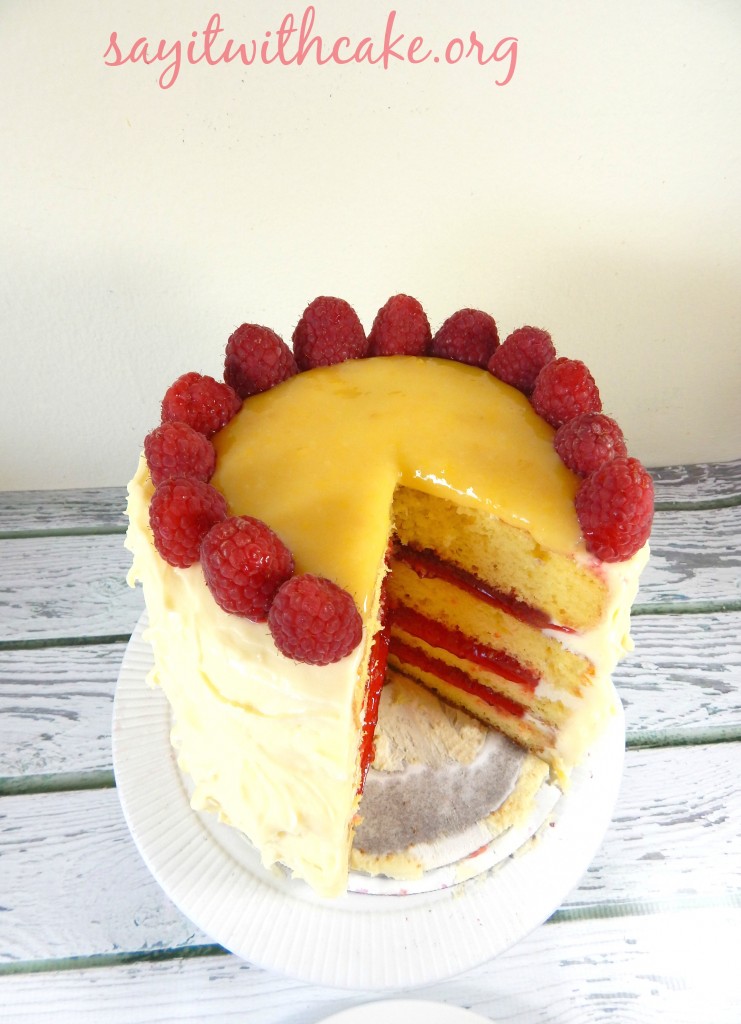 This cake is a four layer light and springy lemon cake, filled with seedless raspberry filling, frosted with a delicious lemon cream cheese frosting, and topped with a tangy lemon curd and fresh raspberries! I made this cake for my husband, who really loves cream cheese frosting.  Every time I make a new cake the first thing he asks is "what kind of frosting does it have?" He thinks buttercream is too sweet, but always appreciates a cake with cream cheese frosting or whip cream frosting.  So while I was going to use a lemon buttercream for this cake, I changed my mind and decided to go with the cream cheese frosting.  It was an excellent choice and I think it complimented the cake perfectly!
I wanted to make this an easy cake, so I started out by using a cake box mix and store bought raspberry filling.  The cream cheese frosting has only a few ingredients, and the lemon curd is also easy to make.  I made them both the day before, so when it came time to make the cake, I had most of the components ready to go!
This is a 6 inch cake, so the raspberries look huge! I love how I can see every detail of the raspberries in this picture 🙂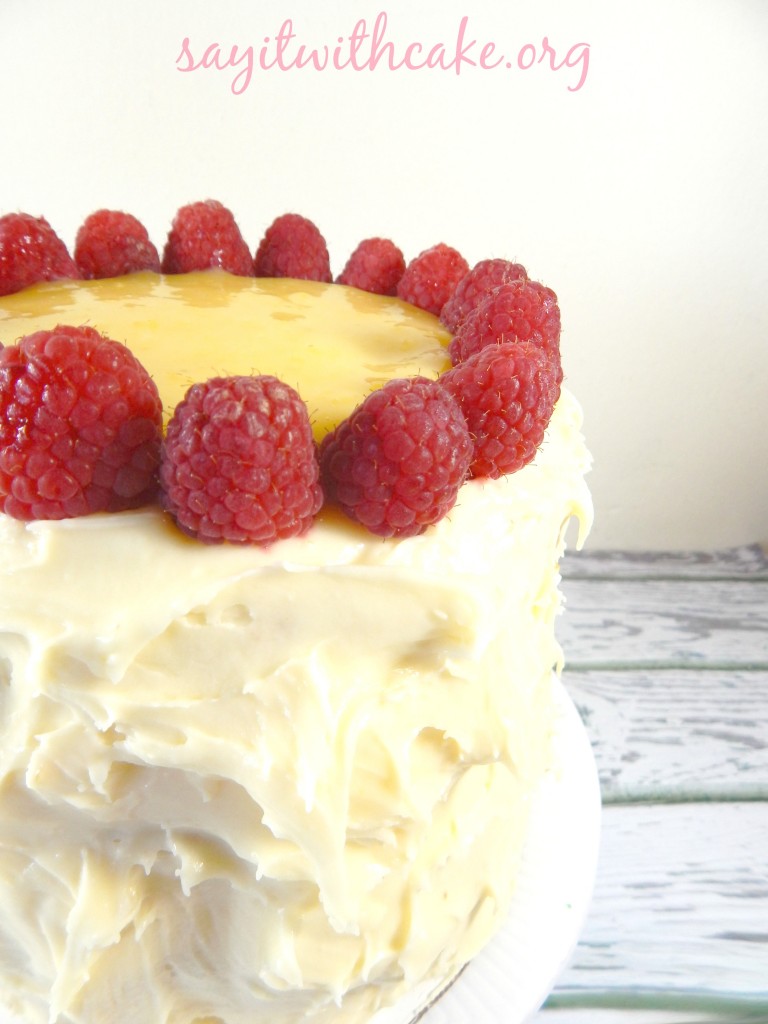 The cream cheese frosting does not crust, so it was a little hard to get a smooth finish. Instead I just made a lot of waves in the frosting.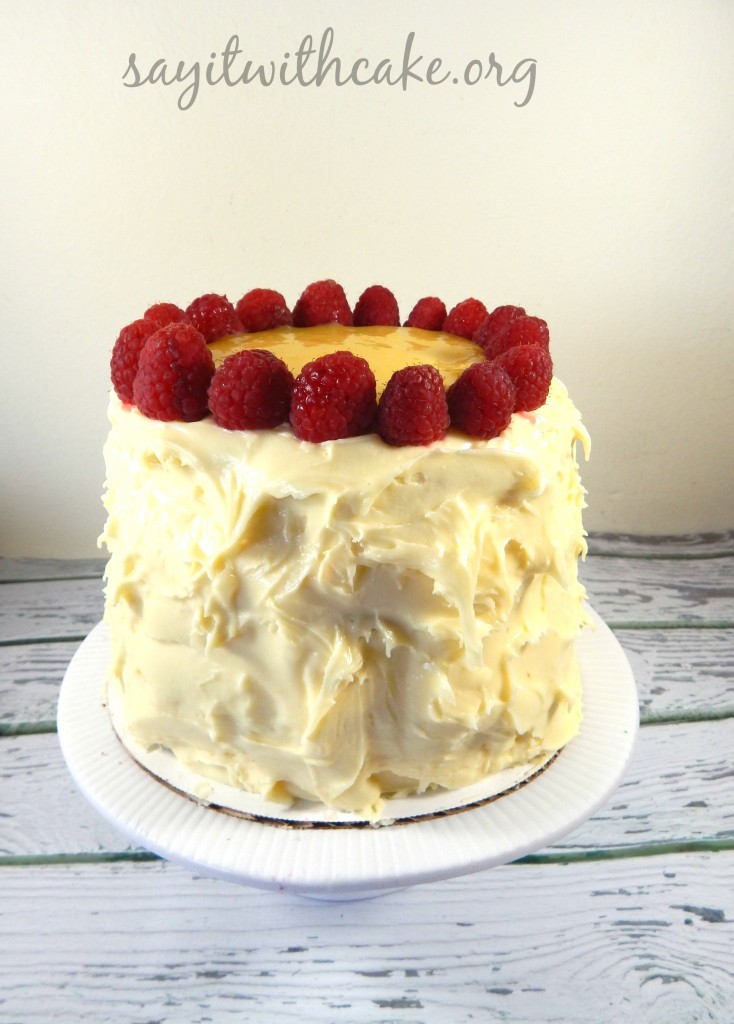 I think the lemon and raspberry flavors are perfect together! I can't wait to have a big slice right after I finish writing this post! I hope you enjoy it!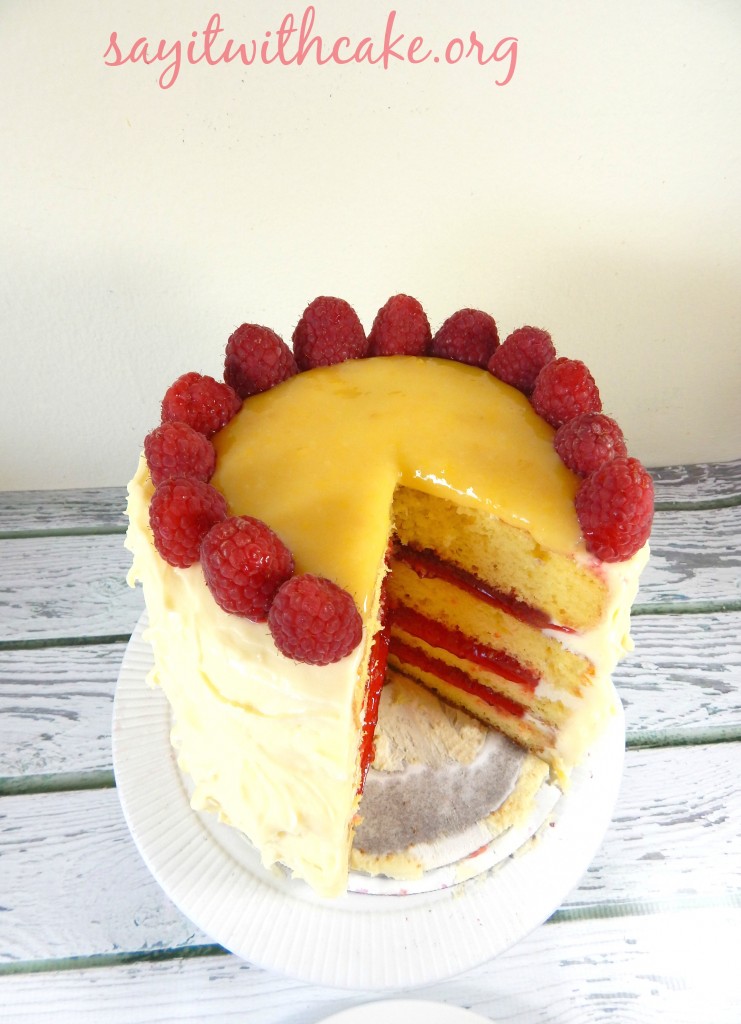 Ingredients
For Cake

one lemon cake box
lemon zest from one lemon

For Lemon Curd

4 large lemons, zested and juiced (a little over 1/2 cup)
1 cup granulated sugar
5 egg yolks
1/2 cup unsalted butter, cut into pieces

For Lemon Cream Cheese Frosting

16 oz cream cheese, softened
4 oz unsalted butter, room temperature
2 lbs confectioners sugar
1 teaspoon vanilla extract
1 lemon, zest and juice

Raspberry Filling

I bought pre made seedless raspberry filling from my local cake supply store
Instructions
For Cake

Mix cake by following instructions on box and add in zest from one lemon

For Lemon Curd

In a medium bowl, combine lemon zest and sugar. Rub together with your fingers until fragrant.
Put the lemon zest and sugar mixture, lemon juice, egg yolks, and butter in a medium heavy-bottomed saucepan and stir until combined.
Cook over medium-low heat, stirring constantly, until the butter melts and the mixture thickens, about 10-12 minutes. The lemon curd will continue to thicken as it cools.
Remove the pan from the heat and pour lemon curd into a jar or glass bowl. Press a piece of plastic wrap directly against the curd so it is airtight. Cool to room temperature and then place in the refrigerator. Again, the curd will thicken up after it is completely cooled.
Note-Lemon curd will keep in the refrigerator for up to 2 weeks.

For Lemon Cream Cheese Frosting

Using a stand mixer fitted with the paddle attachment, mix the butter and cream cheese until smooth.
Add vanilla, lemon zest and juice and mix until combined.
Gradually add confectioners sugar until completely combined. Scrape down the sides of the bowl. Mix again.
Note...for making the dam to go around the edges of the cake to hold in the raspberry filling, add more powdered sugar to make the frosting stiff

To assemble the cake

bake cake
allow to cool completely
freeze over night wrapped in saran wrap (this will make it easier to torte) but this step is optional
torte cakes to be 2 inches each
pipe a dam of stiff frosting around edge of first layer.
fill inside of the dam with raspberry filling
do this for all layers
make sure the cake is level
put cake in refrigerator for 2 hours to let filling "Settle"
frost cake with a crumb coat and let sit in refrigerator for 2 minutes
frost cake and smooth
set in refrigerator for 20 minutes
put a border of raspberries around top of cake
fill in top with lemon curd
http://sayitwithcake.org/lemon-raspberry-cake/
Enjoy!



linked up at Country Cook
More Lemon and raspberry cakes you might enjoy!