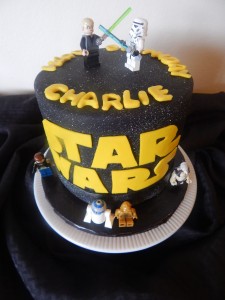 Happy Star Wars Day! Today I wanted to show you how I made this cute little Star Wars Cake.  My friend Charlie is a huge fan of Star Wars, and wanted a fondant covered Star Wars cake for his birthday.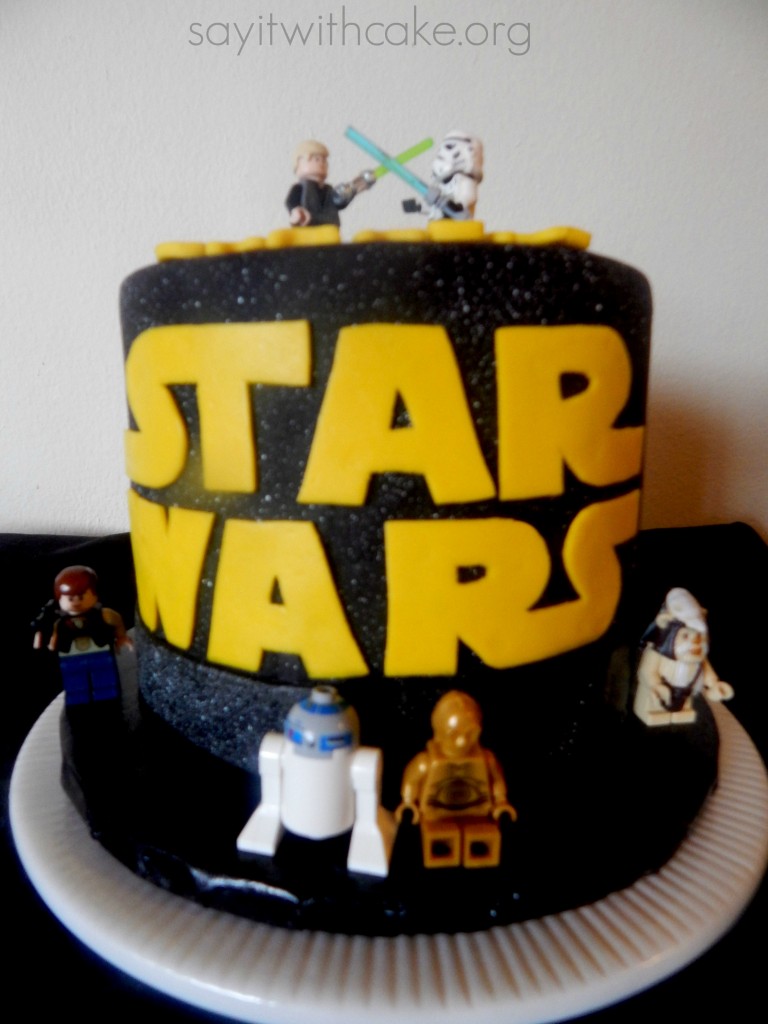 First I baked the chocolate cake and torted, filled, and stacked the cake.
Ingredients
•1 c. salted butter, at room temperature
•3½-4 c. powdered sugar
•1/2 c. unsweetened cocoa powder
•1 tsp. vanilla extract
•2-3 T. whole milk, half-and-half, or cream
Instructions
With an electric mixer (either hand or stand), beat butter until pale, about 3-4 minutes on medium.
Scrape down the bowl.
Add 3½ cups powdered sugar, cocoa powder, vanilla, and 2 tablespoons of milk.
Mix on low until powdered sugar and cocoa powder are incorporated.
If the frosting is too dry, add another tablespoon of milk. If the frosting is too wet, add powdered sugar 2 tablespoons at a time until it reaches a spreadable consistency
http://sayitwithcake.org/may-the-4th-be-with-you-star-wars-cake/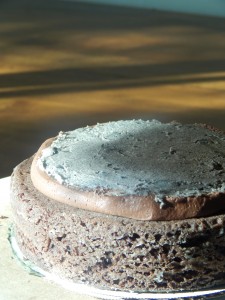 I made a dam of thick chocolate buttercream frosting around the edge of the cake and filled it with cookies and cream filling.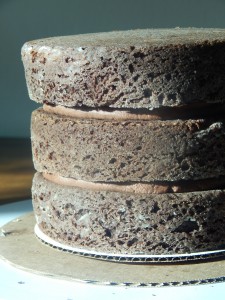 I repeated this for all of the layers. Next I covered the cake with chocolate buttercream frosting and covered the cake with black fondant.   I always buy my black fondant because when you try to make it yourself, no matter how much black food coloring you use, it always turns out a dark gray and never completely black.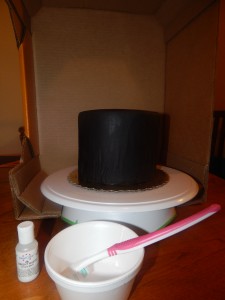 This is a tip I learned the hard way of trying too many times to make black fondant! 
Next I took my fondant covered cake and put it inside a cardboard box with the side facing me open.  I did this because I am going to splatter white food coloring and if I don't do this it will get all over the walls, table and everything else! I put white food coloring in a cup and used a brand new tooth brush.  I dipped the toothbrush in the food coloring and used my finger to flick the brush and splatter the food coloring all over the cake to look like a galaxy of stars!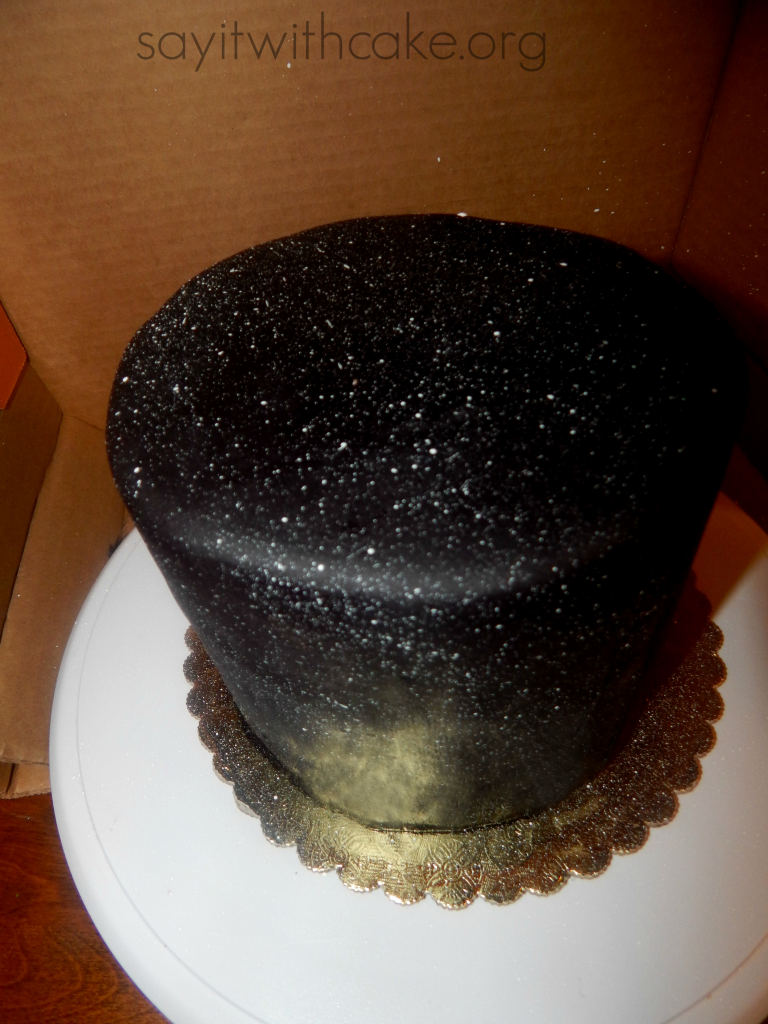 Next I cut out my fondant star wars letters.  I cut them out backwards on a piece of wax paper so I could easily stick the letters to the cake using water and put them all on at once.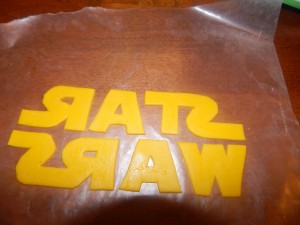 Next I wrote Happy Birthday Charlie with fondant and put it on the top of the cake along with some of his favorite Star Wars Lego characters!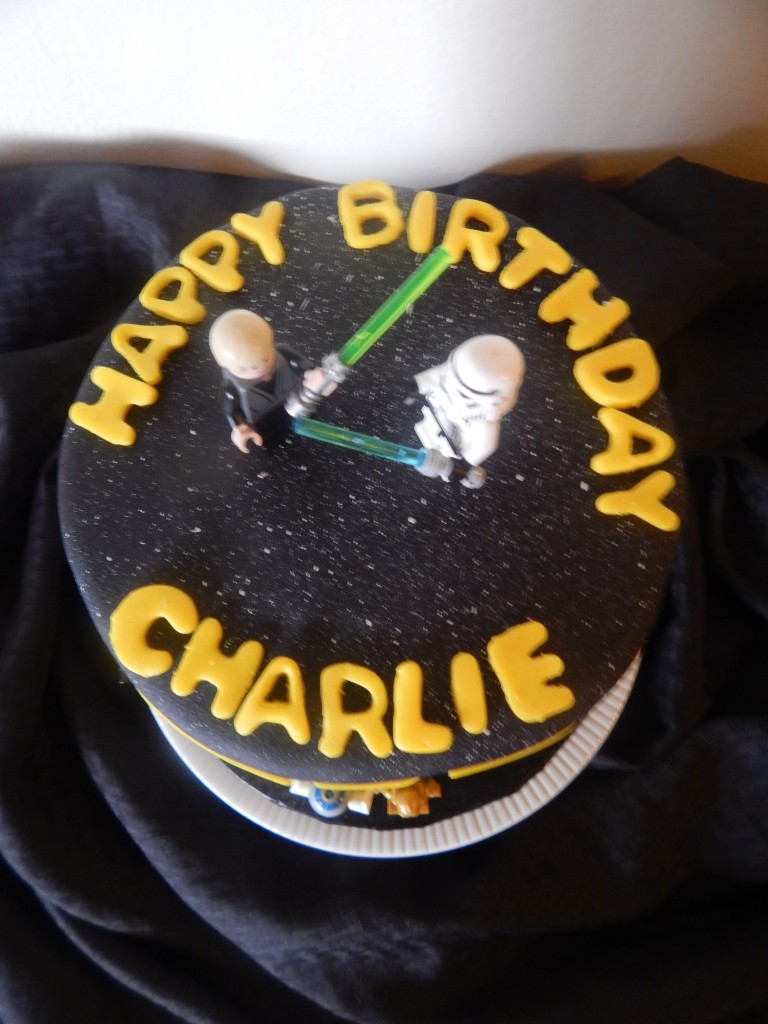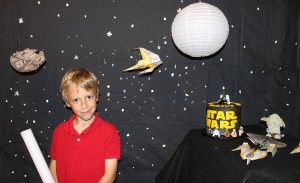 Here is a picture of him at his party, he looks so cute! I hope this tutorial helps if you want to build a Star Wars Cake of your own!