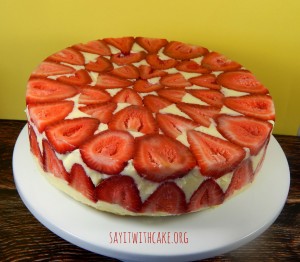 This is my second attempt at making the delicious "Le Fraisier".  This amazing French cake is full of strawberries, French cream, and sponge cake!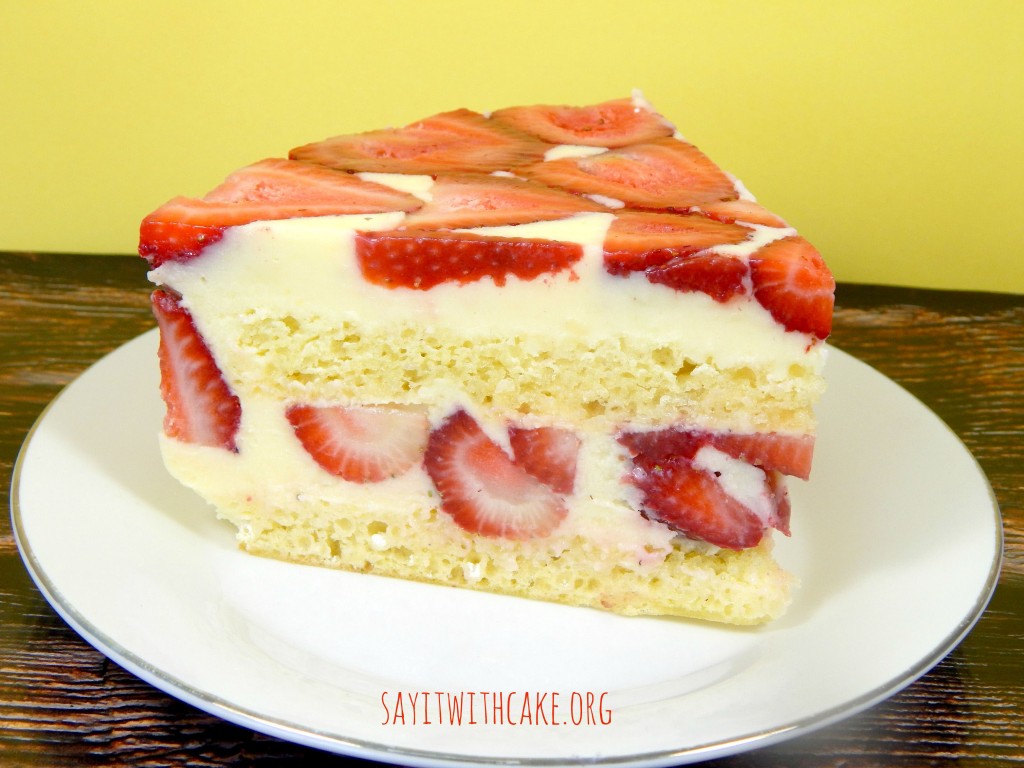 I made this cake for my Aunt Teresa's Birthday.  It was fun to make a different variation of the Strawberry Fraisier Cake then my first one Here.  For this cake you will need one Genoise sponge cake cut in two, mousseline cream, simple syrup, strawberries, and a 9 inch spring form pan or 9 inch pastry ring.  I used an upside down method that I got from Brunos Kitchen by first placing the strawberries down flat on a board covered with parchment paper.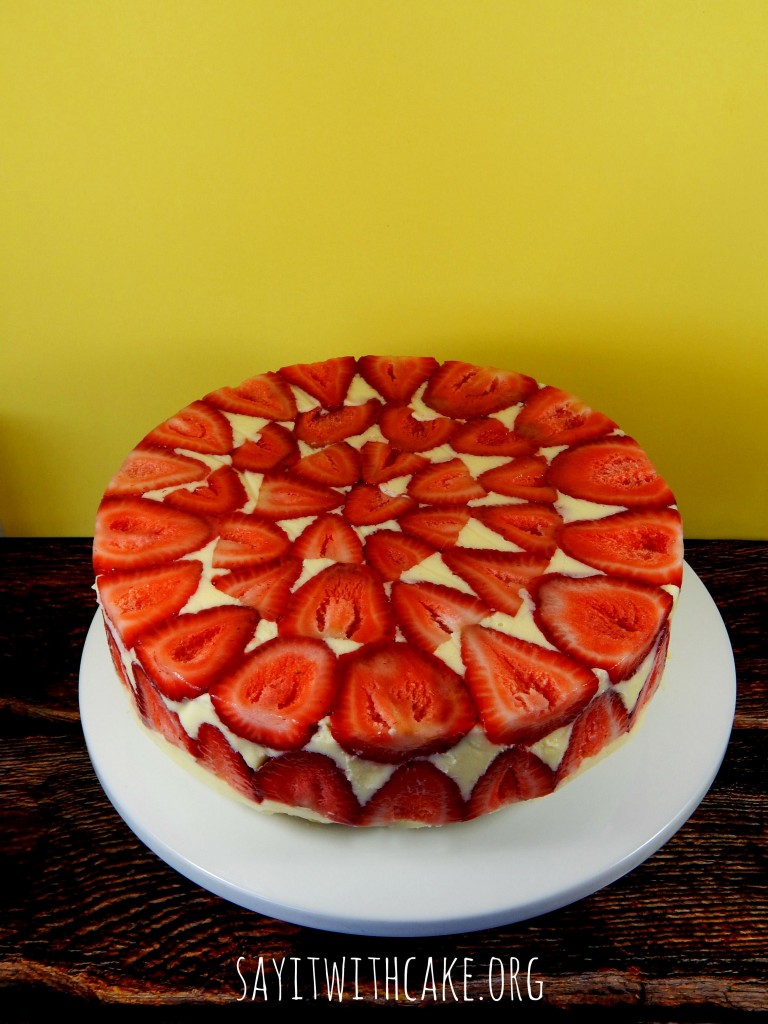 Next, arrange strawberries halves on the bottom in circle motion and top with a layer of Mousseline filling. Soak one sponge disc into the simple syrup, flip and place on the top, pressing down carefully.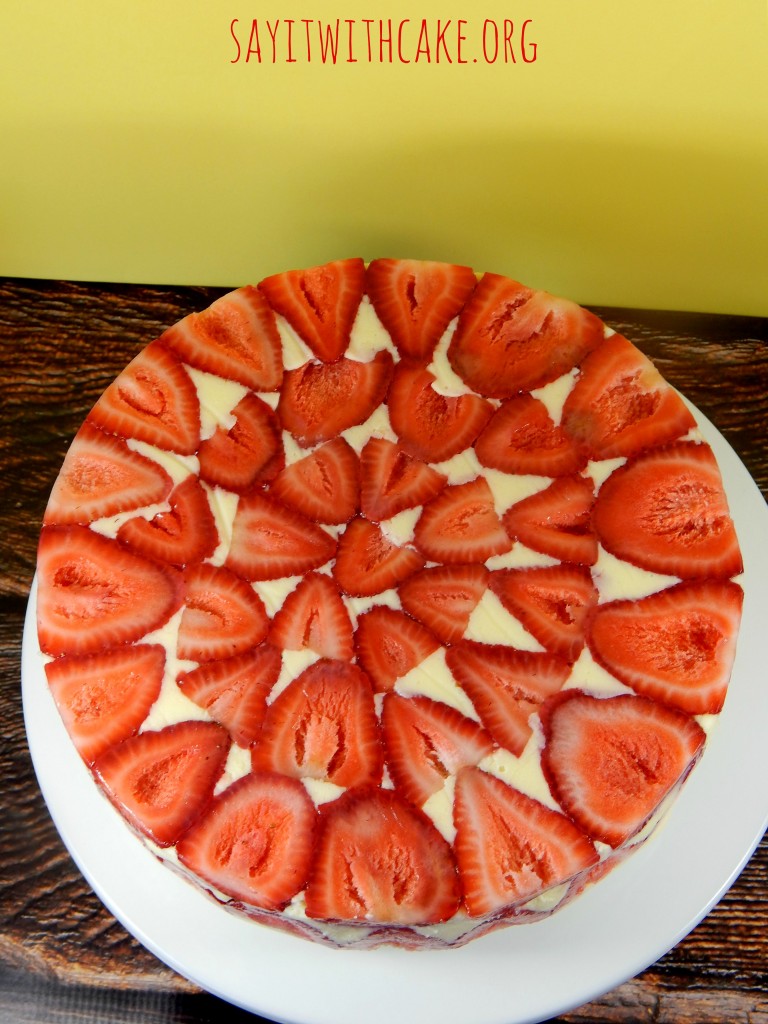 Arrange strawberry halves (upside down) against the pastry ring. Add more filling and spread evenly using a spoon filling up any space left between each fruit. Cover the cake with more fruits, Mousseline and top with a second and last sponge disc soaked in syrup.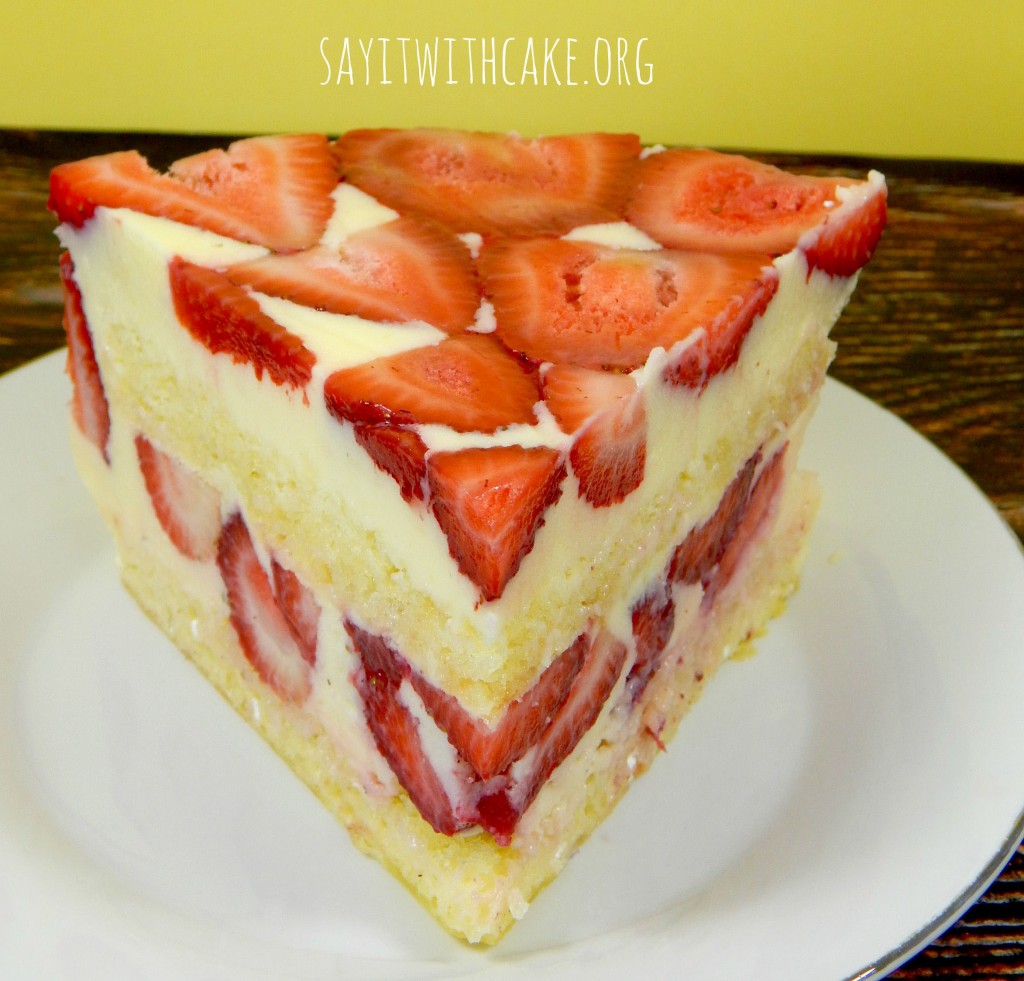 Smooth out the surface of the cake using a spatula and refrigerate a few hours or until completely set (hard to the touch).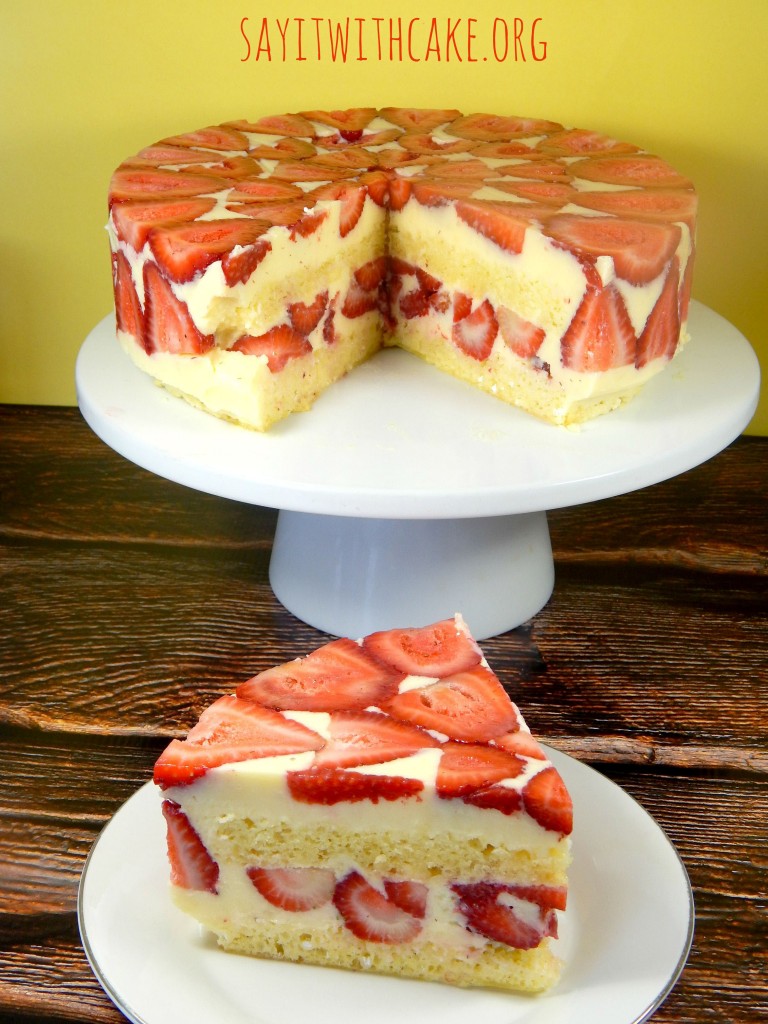 Flip cake, remove plastic, ring and parchment and slice. Decorate with strawberries. Let Fraisier out for about 30 minutes before serving. Enjoy!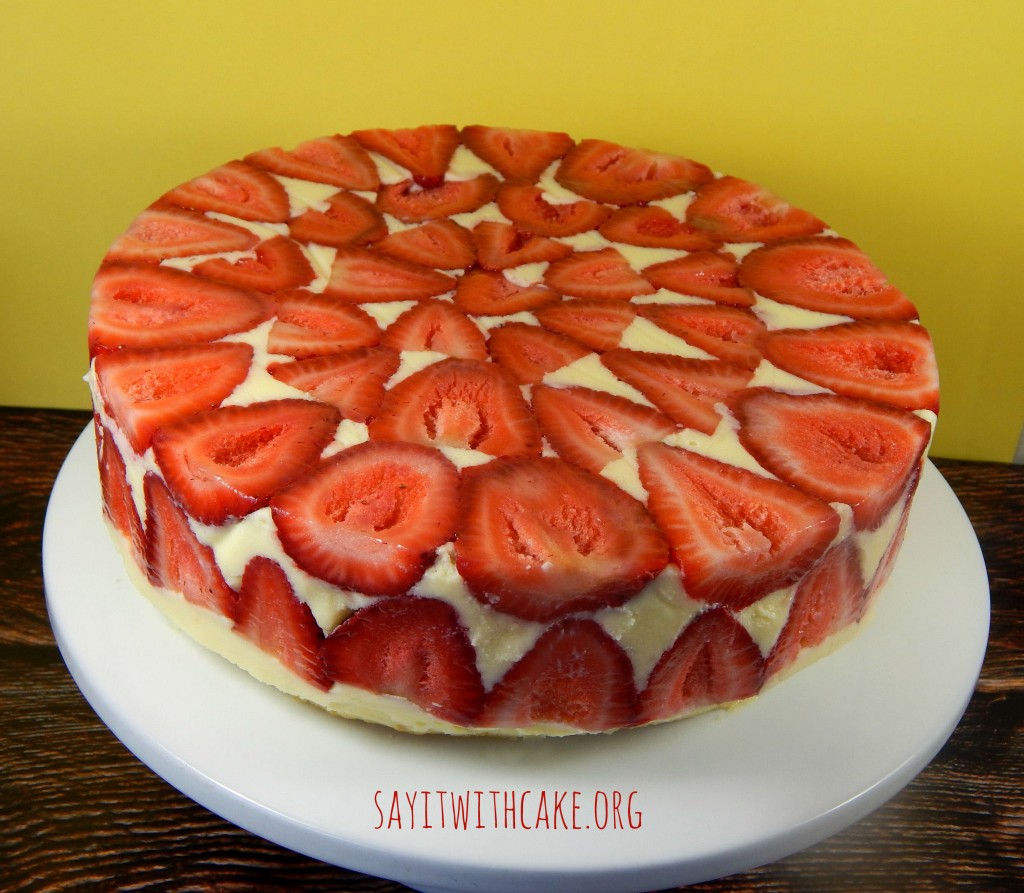 Ingredients
For the sponge cake

6 eggs
1 c flour
1 tsp baking powder
3/4 c sugar

for the simple syrup

1/4 cup (50g) sugar
1/4 cup (50g) water
1 vanilla bean, scrap out the seeds or 1/2 tsp (2.5ml) vanilla extract

For the Crème Mousseline:

2 1/4 cups (600 ml) whole milk
6 (120 g) egg yolks
1 cup (200 g) granulated sugar, divided in half
1/4 cup plus 2 tablespoons (50 g) cornstarch
1 1/4 cup plus 2 tablespoons (300 g) butter, room temperature, divided in half
For the Meyer Lemon Simple Syrup:
1/3 cup (70 g) granulated sugar
1/3 cup (70 ml) water
4 tablespoons Meyer lemon juice
Instructions
For the sponge cake

mix the eggs and sugar in kitchen aid for 7-10 minutes until pale in color and thick.
mix baking powder and flour together in small bowl
sift in the flour into the egg mixture little at a time in 5 increments. Fold in carefully.
put into 9 inch springform pan lined on bottom with parchment paper and greased on bottom but not on the sides.
Preheat oven to 350
cook 10-12 minutes
let cool 10 minutes in pan
take out of pan and cool completely.

For the simple Syrup

Bring simple syrup to boil and let cool. The easiest part!

For the Crème Mousseline:

Scald the milk and half the sugar in a heavy bottom saucepan over medium high heat.
While the milk and sugar are heating, whisk together the egg yolks, the remaining sugar and cornstarch until the mixture becomes pale in color. Once the milk is scalded, bubbling at the edges, slowly pour about 1/4 of it into the egg yolk mixture, whisking until combined. Continue adding the milk in fourths until all has been whisked together. Check the bottom of your saucepan. If there is any scorched milk or film, use another heavy bottom saucepan; otherwise, pour the mixture back into the pan and bring to a boil over medium high heat, stirring vigorously and constantly. Once the mixture boils, continue stirring vigorously over the heat for about 30 seconds more. Remove from the heat continuing to stir until the steam dissipates.
Press through a sieve for a smooth cream. Dot the cream with half of the butter in tablespoon-sized chunks. Let the butter melt, then stir in. Cool over an ice bath for 10 minutes. Cover with plastic wrap. The plastic should come in direct contact with the cream, so a film doesn't develop. Refrigerate until cold, at least 30 minutes.
When the pastry cream has chilled, remove it from the refrigerator. Mix the remaining butter with a spoon until it's a soft consistency. In a stand mixer, add the pastry cream and then stir until it's soft. Add 1/4 of the softened butter at a time and combine before adding the next 1/4 of the butter. Stir until the butter and pastry cream are combined into a smooth emulsion. Place the mixture in a pastry bag fitted with a round tip that is 1/2-inch in diameter.
For the Meyer Lemon Simple Syrup:
Bring to a boil the sugar and water. Remove from the heat and cool. Add the lemon juice and refrigerate until you are ready to use it.
http://sayitwithcake.org/strawberry-fraisier-cake/