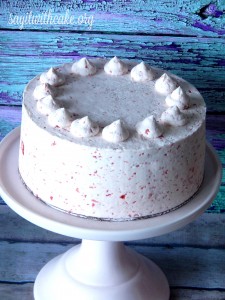 Now this strawberry cake is great. But the frosting, well that is another story entirely.  In fact,  it really deserves its own post! It is one of the best frostings I have ever had! It has pieces of fresh strawberries and the flavor is smooth, creamy, and not as sweet as regular American buttercream.  It is a little bit harder to make, but worth it!
This cake is a white cake with fresh strawberries and strawberry Swiss meringue buttercream in-between the layers.  You can find my recipe for my WASC (white, almond, sour cream ) white cake here.  It is my go- to white cake recipe and it is delicious!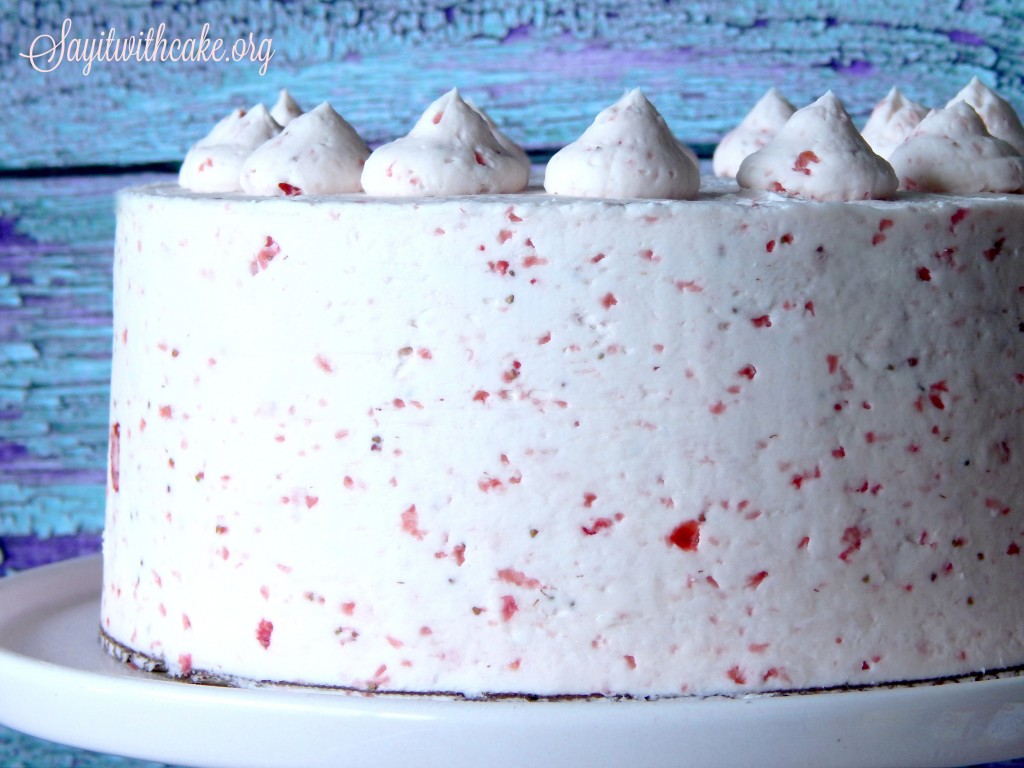 I made this cake for my step mother Peggy for her birthday.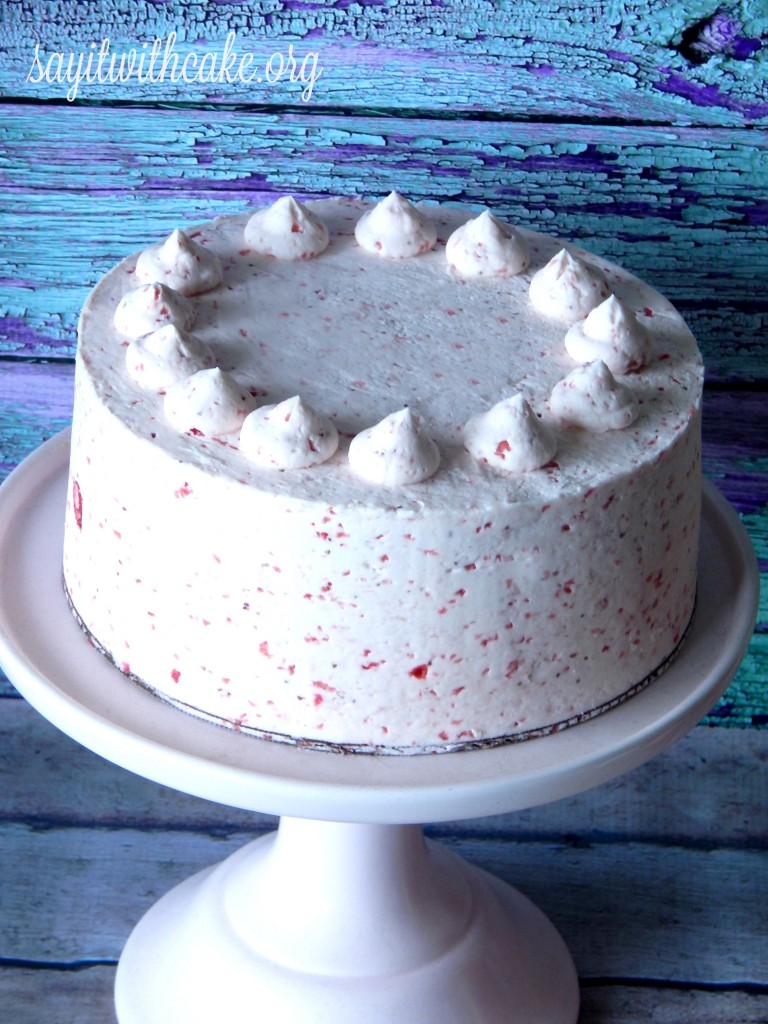 I thought about putting something else on top of the cake, but I decided to leave it simple.  I have a few other strawberry cakes where I decorated the top with strawberries.  You can see them here, and here.  I like the piping I chose for this cake, they look like kisses!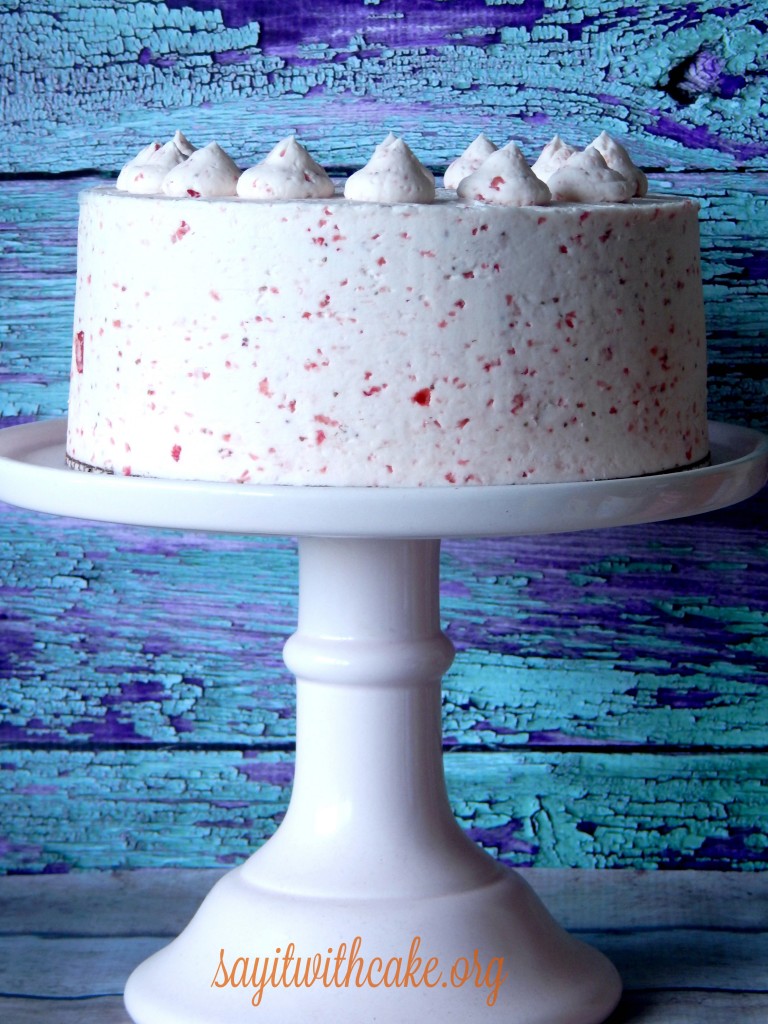 Strawberry Swiss Meringue Buttercream
Ingredients
1 ½ cups strawberries (about 8 oz)
•5 large egg whites
•1 cup plus 2 tablespoons sugar
•Pinch of salt
•1 pound (4 sticks) unsalted butter, cut into tablespoons, room temperature
•1 1/2 teaspoons pure vanilla extract
Instructions
Puree the strawberries until smooth and set aside.
Combine egg whites, sugar, and salt in the heatproof bowl of a standing mixer set over a pan of simmering water. Whisk constantly by hand until mixture is warm to the touch and sugar has dissolved (the mixture should feel completely smooth when rubbed between your fingertips or gets to 140 degrees F ).
Attach the bowl to the mixer fitted with the whisk attachment. Starting on low and gradually increasing to medium-high speed, whisk until stiff (but not dry) peaks form. Continue mixing until the mixture is fluffy and glossy, and completely cool (test by touching the bottom of the bowl), about 10 minutes. Set your timer, it makes life much simpler.
With mixer on medium-low speed, add the butter a few tablespoons at a time, mixing well after each addition. If for some reason your frosting now resembles curdled milk, don't freak out, just keep beating it; it will come back I promise. Once all butter has been added, whisk in vanilla and the strawberry puree. Switch to the paddle attachment, and continue beating on low speed until all air bubbles are eliminated, about 2 minutes. Scrape down sides of bowl with a flexible spatula, and continue beating until the frosting is completely smooth. Keep butter cream at room temperature if using the same day. This frosting can be made ahead and refrigerated, if you do that, make sure you let it get to room temp before you re-beat it. If you are using the next day, simply take it out the refrigerator the night before and let it sit on the counter, it will be the perfect temperature to whip the next morning.
http://sayitwithcake.org/strawberry-swiss-meringue-buttercream-cake/
enjoy!


If you like strawberry, here are some other strawberry cakes you might like!