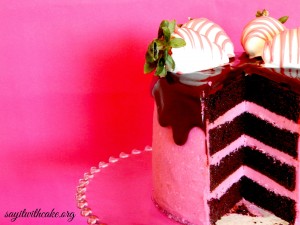 Happy Valentine's Day!!  I have been dreaming of making this cake for a long time, but wanted to wait and make it for Valentine's Day.  Chocolate and chocolate covered strawberries are just perfect for Valentine's day, don't you think? This cake is a dark chocolate, four layer cake with strawberry swiss  meringue buttercream filling and frosting, covered with a chocolate ganache and topped with white chocolate covered strawberries.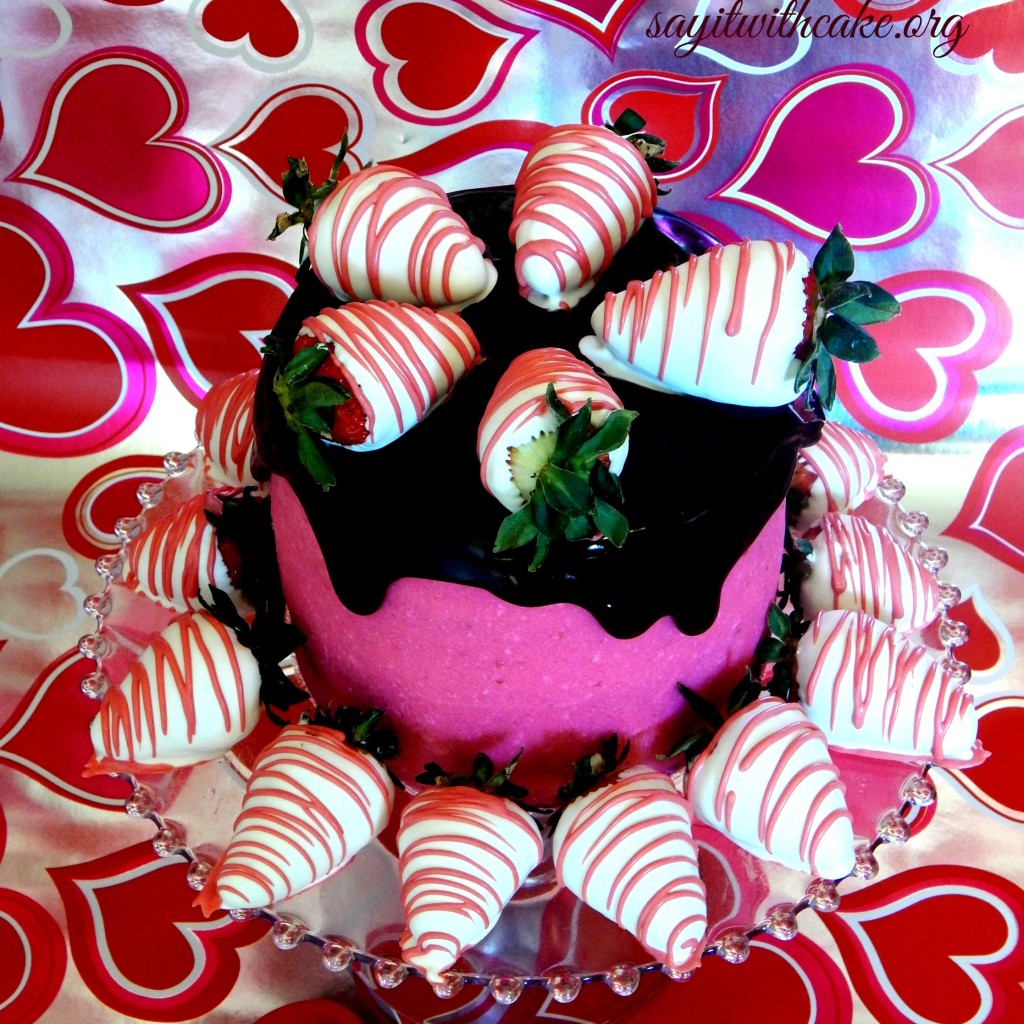 I have never made a swiss meringue buttercream before.  I found a recipe that looked delicious and I followed the directions perfectly but I still don't think it came out as I would have liked.  I think I needed to beat the butter a little longer.  Also, I wish I would not have put pink food coloring in it.  Before I put the food coloring in it you could see the bits of strawberries in it and it looked so yummy! For my next cake, I will leave out the food coloring for sure!  I think I need to make swiss meringue buttercream a few more times before I perfect it.  It tastes so much better than regular buttercream, in my opinion! It tastes sort of like a strawberry custard.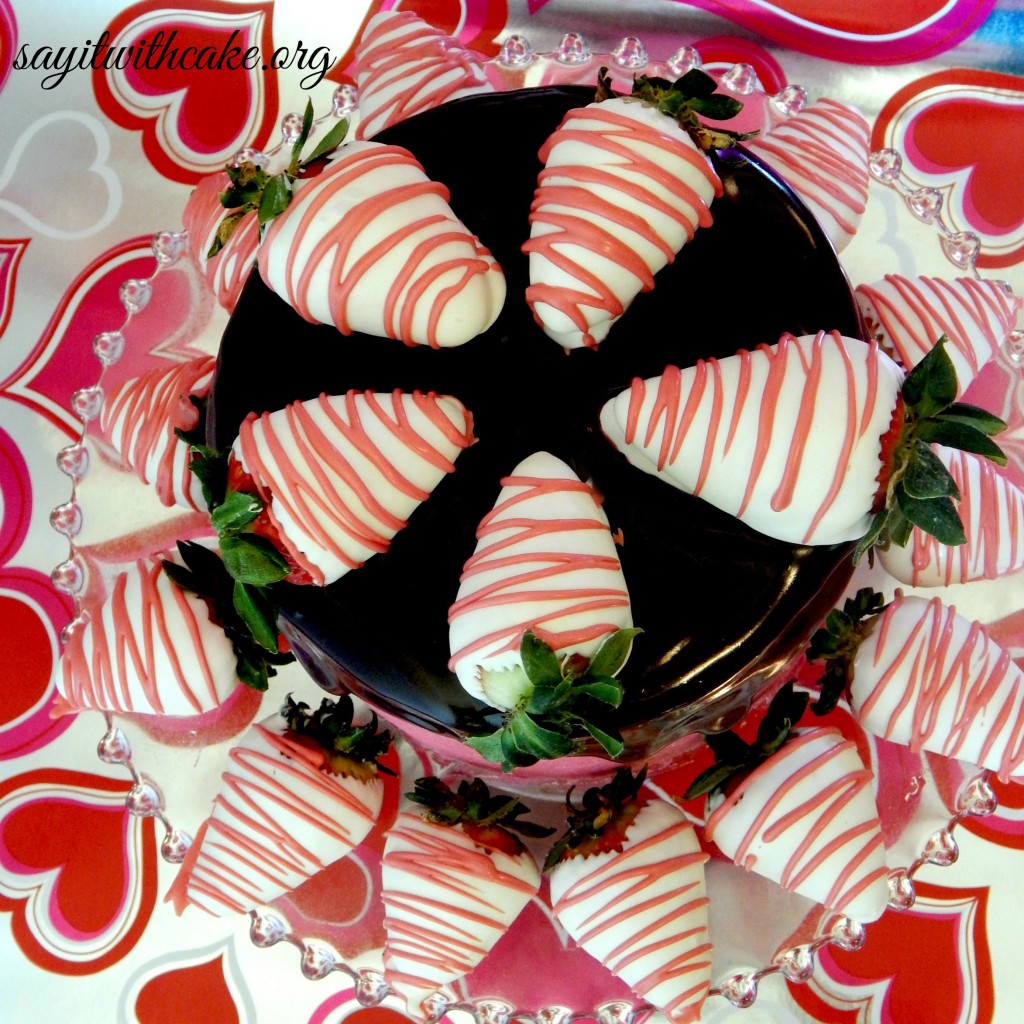 When I was researching how to make chocolate covered strawberries, I learned a few new tricks! There is something called Paramount Crystals that I bought from my local cake supply store, "Do it with Icing". It works even better than shortening.  What you do is add one teaspoon of Paramount Crystals to one pound of white chocolate candy melts.  After microwaving the chocolate and Paramount Crystals together, you mix it up and it becomes so silky smooth.  The chocolate stays smooth longer and it is much easier to dip the strawberries in.  It didn't get hard or chunky and I dipped all of my strawberries in one batch.  I am so happy I found this little trick and that I can share it with you!  I put the strawberries on wax paper and let it dry for a few minutes.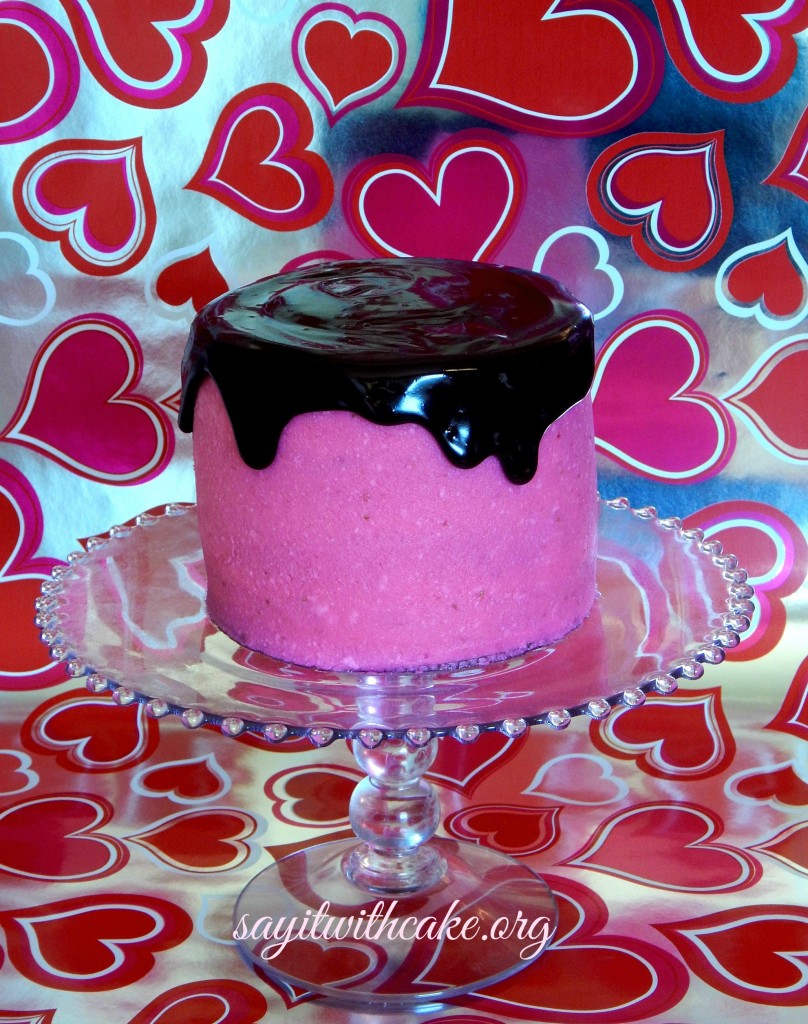 The trick I learned about drizzling chocolate over the chocolate covered strawberries was very helpful.  First, I put one strawberry on a piece of wax paper.  Then I started the drizzle OFF of the strawberry on one side and finished OFF of the strawberry on the other side.  I used my arm, not my wrist, to drizzle by going back and forth.  This made a big difference! It made a big mess of chocolate on the wax paper, but they turned out so much better.  Sorry if I am not explaining it well!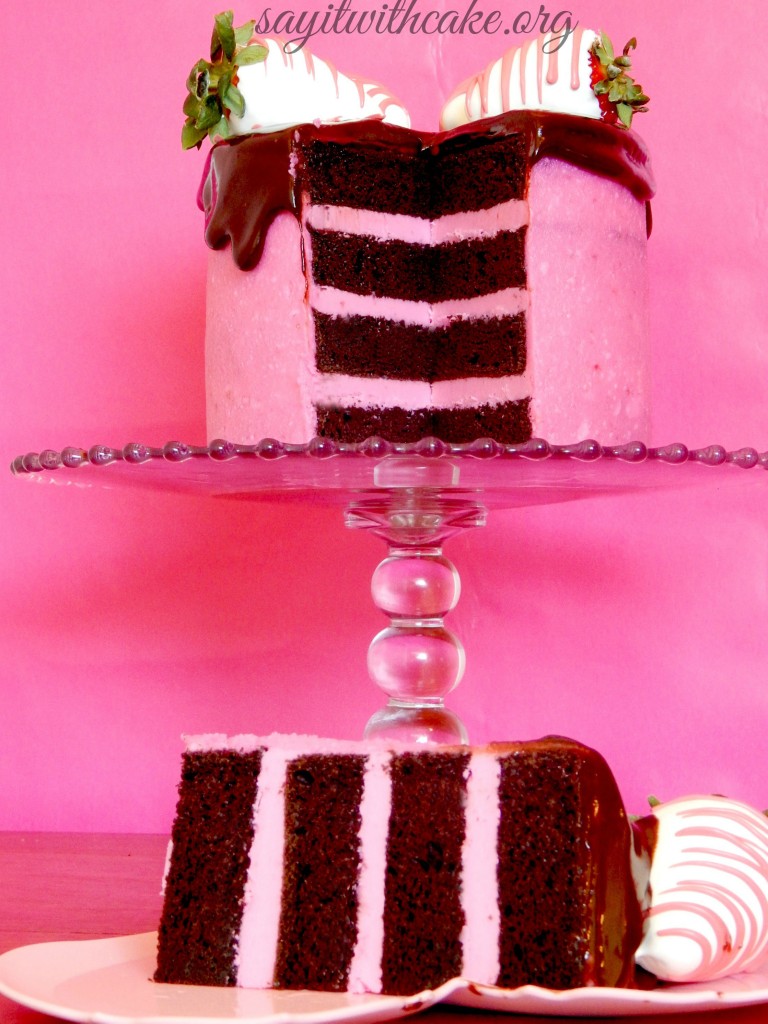 For the chocolate ganache, one tip is to get a candy thermometer.  Because the buttercream is made with butter, if the ganache is too hot it will melt the buttercream. (I know this from experience!)  After mixing the ganache, let it cool until it is 86 degrees.  Also, make sure that the cake is not too cold or the ganache will set too quickly and may not drizzle down.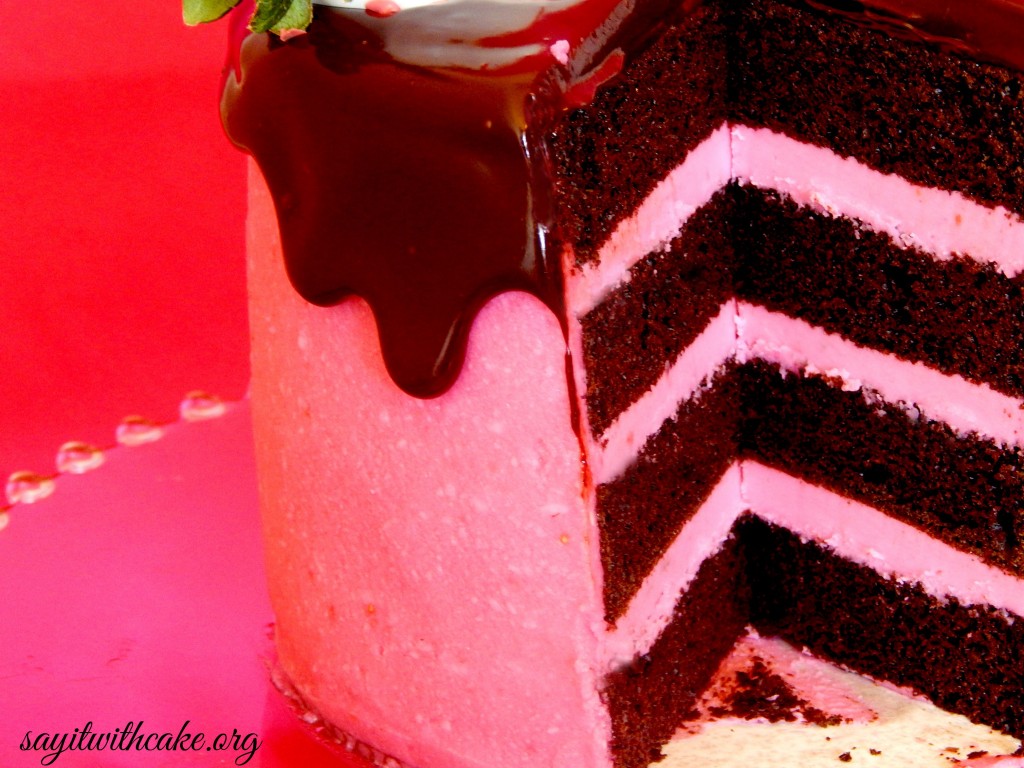 Valentine's Chocolate Covered Strawberry Cake
Ingredients
For Strawberry Swiss Meringue Buttercream

5 large, fresh egg whites (150 g)
1-1/4 cups (250 g) sugar
1-1/2 cups (3 sticks) (340 g) butter, cut into cubes and cool, but not cold
2 teaspoons (10 ml) pure vanilla extract
1/4 cup (59 ml) (or to taste) strawberry puree OR a handful (about 1 cup, or more to taste) of fresh, washed, and dried strawberries, chopped
pinch of salt
few drops pink food colouring (optional)

For glaze

4 oz (115 g) high quality bittersweet chocolate, coarsely chopped or callets
1/3 cup (76 g) unsalted butter, at room temperature and cut into cubes
Instructions
For Strawberry Swiss Meringue Buttercream

If using strawberry puree, place a handful of frozen strawberries in a food processor, and process until a smooth puree. Measure approximately 1/4 cup and set aside (you may want to add more puree to taste).
Wipe the bowl of an electric mixer with paper towel and lemon juice, to remove any trace of grease. Add egg whites and sugar, and simmer over a pot of water (not boiling), whisking constantly but gently, until temperature reaches 160°F, or if you don't have a candy thermometer, until the sugar has completely dissolved and the egg whites are hot.
With whisk attachment of mixer, begin to whip until the meringue is thick, glossy, and the bottom of the bowl feels neutral to the touch (this can take up to 10 minutes or so). *Don't begin adding butter until the bottom of the bowl feels neutral, and not warm.
Switch over to paddle attachment and, with mixer on low speed, add butter cubes, one at a time, until incorporated, and mix until it has reached a silky smooth texture (if curdles, keep mixing and it will come back to smooth). *If mixture is too runny, refrigerate for about 15 minutes and continue mixing with paddle attachment until it comes together. Add vanilla and salt, continuing to beat on low speed until well combined.
Add strawberry puree to taste or the finely chopped strawberries, and blend until combined. Add small amount of pink food coloring, if desired.

For Glaze

Place the chocolate and butter in a medium heatproof bowl over a pot of simmering water. Stir the mixture using a rubber spatula until melted and smooth. *Be careful to not get even a droplet of water into your bowl of chocolate and butter.
tips: don't let bowl touch the water when whisking over the pot of simmering water. Also, if you don't have a candy thermometer, you can take a fingerful out and rub it together and see if you can feel any sugar crystals.
http://sayitwithcake.org/valentines-chocolate-covered-strawberry-cake/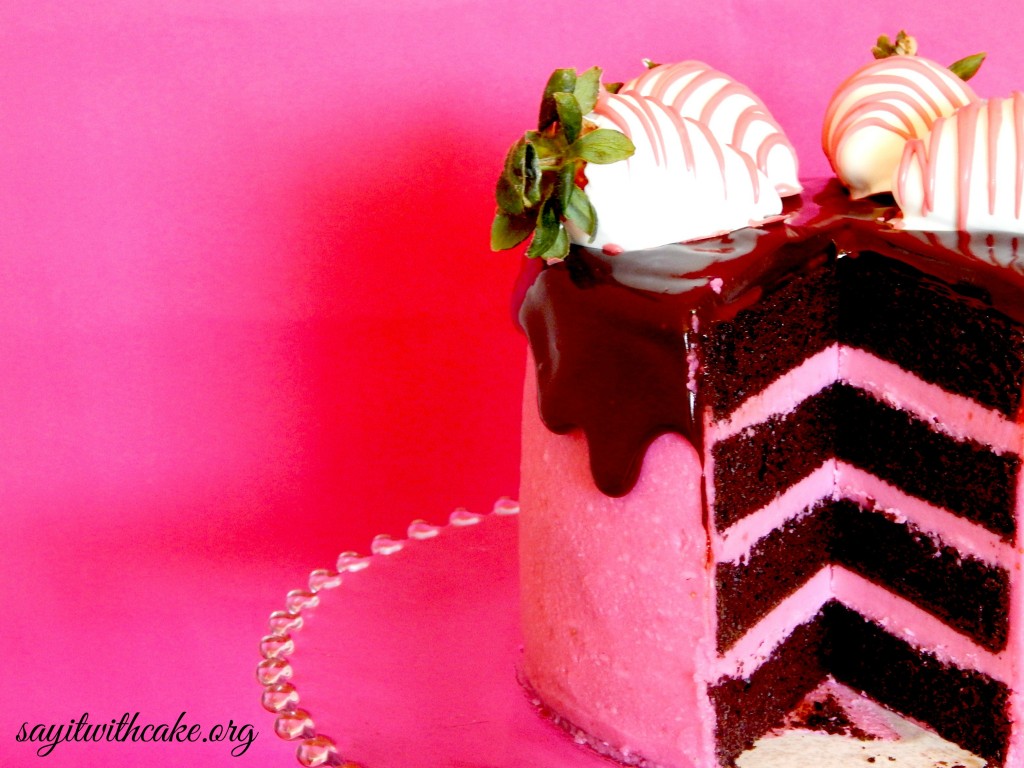 My Cake was featured here!