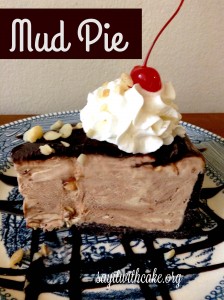 This delicious mud pie is a new and improved recipe based on my Kona Pie recipe HERE.  I used a different ice cream called Mocha almond fudge.  I also covered the pie in fudge instead of covered with whipped cream.  I put a swirl of whipped cream on each piece instead.  The result is a chocolatey mocha yumminess!
Ingredients
Crust

1 packages of Oreo cookies
1 cube of butter

Filling

1 gallon mocha almond fudge ice cream

Topping

whip cream
fudge
macadamia nuts
cherries
Instructions
Crust

blend cookies in the food processor
add cookies and melted butter into a bowl
mix until all butter is incorporated
press onto 9 inch springform pan
freeze for several hours

Filling

mix ice cream in bowl
scoop into crust and press down with spoon
freeze over night
top with whip cream, fudge, and macadamia nuts
http://sayitwithcake.org/mud-pie/
There are two ways you can assemble this mud pie.  The first way is to use a spring form pan. The second way is to use a cake board with a pastry ring and an acetate ring.  This is the way I made it because I  wanted to pie to be smaller then my spring form pan.  Make sure you freeze the crust for a few hours before putting in the ice cream.  The mud pie turns out best if you let it freeze overnight.  Also give the fudge on top time to freeze as well.
Enjoy!

Other cakes you might like!